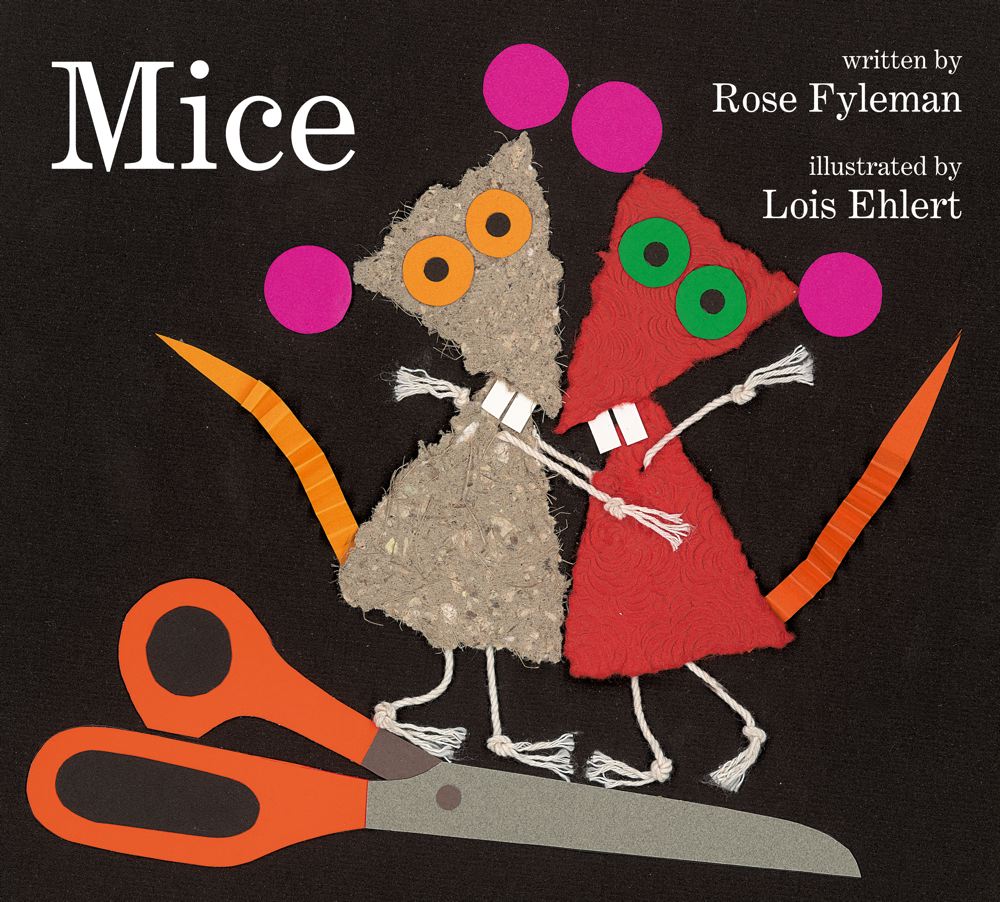 Mice (Hardcover)
Beach Lane Books, 9781442456846, 40pp.
Publication Date: October 16, 2012
Description
The lights are out--and so are the impy house mice--in this delightful nighttime cat-and-mouse adventure. Could it be true that mice are...nice? That's certainly what the cat thinks in this after-dark romp just perfect for young children. Featuring whimsical, comforting text and vibrant collage illustrations from Caldecott Honor medalist Lois Ehlert, this engaging story puts a fresh spin on the classic cat-and-mouse dynamic.
Praise For Mice…
"This fresh interpretation of a classic poem is a charmer.
Ehlert illustrates Fyleman's simple, well-loved poem with her trademark vibrant collages, in this case, made from string and handmade paper…you've got two majorly adorable mice…. Children will delight in following the mice as they enjoy the run of the house…. The simple, rhyming text, very large print and crisp, vibrant images make this one an excellent choice for sharing with your favorite group of toddlers or preschoolers."


* "This storytime winner brings a new twist to the classic poem…. Ehlert's quirky, handmade paper-collage rodents (resplendent with hot pink circle ears, big front teeth,and string limbs) demonstrate by holding up a ruler, crafting a self-portrait,and peering into a mirror…. Preschoolers will undoubtedly agree that "Mice are rather nice.""



"A 1932 poem from Fyleman (1877–1957) serves as a springboard for Ehlert's customarily striking handiwork…Ehlert's playfulness, wit, and exposition elevate the brief text to something to be savored more carefully. Ehlert's wide-eyed rodents are composed of collaged elements: textured, torn-paper triangles form faces and bodies (the fibrous edges of the handmade papers suggest fur), the mice's rectangular buck teeth convey a dopey cuteness, and their ropy legs are made of knotted and frayed string…. Better still, the surprise revelation of the poem's narrator provides a zingy sense of delight."


"Children will be delighted by…Lois Ehlert's vibrant collages…. Rose Fyleman's rhyme can be appreciated as a read-aloud by toddlers, yet fun enough for emerging readers and parents. It's easy to imagine young readers asking for this one on a regular basis--though adding it to your shelves may make it hard to convince them that the kitchen needs a mousetrap.
A visual, rhyming delight for all ages, be the reader human, cat or mouse."



"Mice are nice," especially when Ehlert is illustrating them with handmade paper and bits of string…. Ehlert keeps things light and bouncy with her energetic and droll collage illustrations. She even manages to sneak in an amusing surprise ending…. Attention art teachers: having your young students illustrate poems using Ehlert's technique will be a surefire hit."
Advertisement