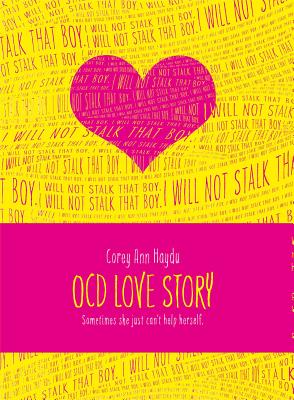 OCD Love Story (Hardcover)
Simon Pulse, 9781442457324, 352pp.
Publication Date: July 23, 2013
Other Editions of This Title:
Paperback (7/22/2014)
* Individual store prices may vary.
Description
In this raw and relatable romance, Bea learns that some things just can't be controlled.

When Bea meets Beck, she knows instantly that he's her kind of crazy. Sweet, strong, kinda-messed-up Beck understands her like no one else can. He makes her feel almost normal. He makes her feel like she could fall in love again.

But despite her feelings for Beck, Bea can't stop thinking about someone else: a guy who is gorgeous and magnetic…and has no idea Bea even exists. But Bea knows a lot about him. She spends a lot of time watching him. She has a journal full of notes. Some might even say she's obsessed.

Bea tells herself she's got it all under control. But this isn't a choice, it's a compulsion. The truth is, she's breaking down…and she might end up breaking her own heart.
About the Author
Corey Ann Haydu grew up in the Boston area but now lives in Brooklyn, New York, where she drinks mochas and uses a lot of Post-it notes, habits she picked up while earning her MFA at the New School.
OCD Love Story
is her first novel. Find out more at
CoreyAnnHaydu.com
.
Praise For OCD Love Story…
"Warning: this book could cause obsessive compulsivereading. Funny, honest and real, OCD Love Story stars one of themost likeable narrators in recent YA fiction. Once you start this book, youwill find that, like Bea, you just can't help yourself."
— Patricia McCormick

*STARRED REVIEW "Debut novelist Haydu doesn't sugarcoat the difficulties of OCD or reduce her characters to a symptom list. . .to build a relationship with someone who's seen them as they really are, to move past shame into intimacy, makes the story that much more touching."

"A raw and well-crafted alternative to run-of-the-mill teen romances that also addresses tough mental health issues head-on."

"A compelling portrait of teen behavioral disorders and the struggle to overcome or, at the very least, balance them."

"While this is not an easy story to read, teens fascinated by mental-health issues or unusual romances will find it hard to put down."

"Bea is an engaging and empathetic character [and] her litany of repetitive thoughts and difficulty in managing them provide readers with a strong sense of what it must feel like to be trapped by compulsions. This unexpected, yet utterly realistic twist on traditional teen courtship will be appealing to those burned out on paranormal romance."

*STARRED REVIEW "Heartwarming, frequently funny, and wholly honest, this debut novel is, well,compulsively readable."

*STARRED REVIEW "Bea is a completely endearing original, and the book manages to subtly steer her narration through denial of her condition to acceptance without ever losing her essential charisma . . . [She] remains witty, affecting, and ferociously individual throughout, and readers will delight to know her as they understand her—and possibly themselves—better."
or
Not Currently Available for Direct Purchase