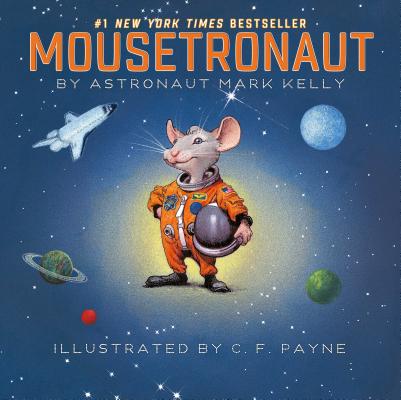 Mousetronaut (Hardcover)
Based on a (Partially) True Story
Simon & Schuster/Paula Wiseman Books, 9781442458246, 32pp.
Publication Date: October 9, 2012
Description
A #1 New York Times bestseller "This little mouse may well inspire some big dreams." --Kirkus Reviews "In this picture book based on the space shuttle Endeavor...Meteor is one of the smallest mice, but the most hardworking...the values of being small, useful, solving problems, and working hard--as opposed to being big and strong--will inspire young readers." --School Library Journal "Inspired by this real-life mouse, Kelly's first children's book tells the story of Meteor, a lightly anthropomorphized rodent who turns his tininess into an advantage when an important key gets stuck in a crack between two monitors...textured images and vivid portraits that make it absolutely clear that space travel is a larger-than-life adventure." --Publishers Weekly A heartwarming picture book tale of the power of the small, from bestselling author and retired NASA astronaut Commander Mark Kelly. Astronaut Mark Kelly flew with "mice-tronauts" on his first spaceflight aboard space shuttle Endeavour in 2001. Mousetronaut tells the story of a small mouse that wants nothing more than to travel to outer space. The little mouse works as hard as the bigger mice to show readiness for the mission . . . and is chosen for the flight While in space, the astronauts are busy with their mission when disaster strikes--and only the smallest member of the crew can save the day. With lively illustrations by award-winning artist C. F. Payne, Mousetronaut is a charming tale of perseverance, courage, and the importance of the small.
About the Author
Mark Kelly was a Captain in the United States Navy when he commanded the final mission of Space Shuttle Endeavour in May of 2011. A veteran of four space flights to the International Space Station he is a graduate of the United States Merchant Marine Academy and holds a masters degree from the U.S. Naval Post Graduate School. As a naval aviator he flew thirty-nine combat missions in Operation Desert Storm in 1991. C. F. Payne has illustrated more than a dozen picture books, including the Texas Bluebonnet winner Shoeless Joe & Black Betsy and Turkey Bowl, both written by Phil Bildner. He also illustrated the New York Times bestsellers The Remarkable Farkle McBride and Micawber, both by John Lithgow. C.F Payne lives in Cincinnati, Ohio, with his wife and children. Visit him at CFPayne.com.
Praise For Mousetronaut: Based on a (Partially) True Story…
Diminutive size proves to be an advantage on a shuttle mission.

Meteor the mouse would dearly love to join the shuttle crew, but all the other mice know he's too small. The human shuttle commander's had his eye on Meteor, though, and seeing his motivation, chooses him for one of the six mouse spots. Meteor is such a "natural" in zero gravity, he's allowed out of the cage, aka the Mouse Hotel. The human astronauts are busy on spacewalks and conducting experiments, but there's not much for Meteor to do. When the key to the control panel becomes stuck in a tight spot, the commander says, "This isn't good." Human fingers are too thick, but Meteor saves the day. Kelly, a retired astronaut, puts his expertise to work, naturally sliding the tiniest details of life on a shuttle into his story. Even in space, astronauts answer email; it goes without saying that at least one of the astronauts is a woman; and who knew you needed keys on a space shuttle? (Probably appropriately, the exact role of the mice on the mission is never explored.) Payne has a good time with his illustrations, investing little Meteor with a suitably outsized personality and making his multicultural human shuttle crew look normal as normal can be—like Meteor, maybe child readers can become astronauts, too.

This little mouse may well inspire some big dreams. (afterword, further reading) (Picture book. 3-6)
Kirkus, September 15, 2012

In this picture book based on the space shuttle Endeavor, mice are being trained alongside human astronauts and selected to accompany the 2001 mission. Meteor is one of the smallest mice, but the most hardworking. After the suspenseful liftoff, an irreplaceable key gets stuck between control panels, and he hurls into action to save the mission. The concise, energetic writing works in tandem with the highly detailed and expressive, softly crosshatched cartoon art. The tone of the story is celebratory, but also gives an authentic glimpse into daily life on a space shuttle. Close-ups of characters reveal humorous surprise or just pure glee. The astronauts dub Meteor with the title "Mousetronaut" due to his bravery and service. Librarians will want to share the inspiration for this tale included in the afterword, an informative essay on man's quest to overcome gravity and fly. Apparently, during the duration of the flight, only one of the 18 mice onboard the Endeavor playfully and contentedly floated in zero gravity. The rest clung to the cage. The values of being small, useful, solving problems, and working hard–as opposed to being big and strong–will inspire young readers. The bibliography is outstanding as is the kid-friendly list of Internet sources featuring sites with games and videos.
-School Library Journal

In an afterword, former astronaut Kelly (who is also the husband of Gabrielle Giffords) recalls that on his first Endeavor flight, the research mice on board would have nothing to do with weightlessness and clung to the mesh of their cage for the entire mission—except one, "smaller than the rest, [who] seemed to enjoy the experience and effortlessly floated around the cage." Inspired by this real-life mouse, Kelly's first children's book tells the story of Meteor, a lightly anthropomorphized rodent who turns his tininess into an advantage when an important key gets stuck in a crack between two monitors. The understated, quietly intense prose (" 'This isn't good,' says the commander. 'We need that key back' ") is just right for the particular breed of hero that is the American astronaut, and the narrative stakes are just high enough for the younger end of the target audience. Payne (Hide-and-Squeak) contributes muscular, handsomely textured images and vivid portraits that make it absolutely clear that space travel is a larger-than-life adventure. Ages 4–8.

Here the mouse is headed in the opposite direction. This first children's book by Kelly, a retired astronaut and husband of former Representative Gabrielle Giffords, builds on his experience with real mice aboard the space shuttle Endeavour. Eighteen of them. In this winning story there are six, and as the smallest one, Meteor gets to perform his own special mission. After helping the astronauts out of a potential Apollo 13 calamity, Meteor is declared a hero—sure to please many fellow pipsqueaks back on Earth.
-The New York Times Book Reivew
Advertisement