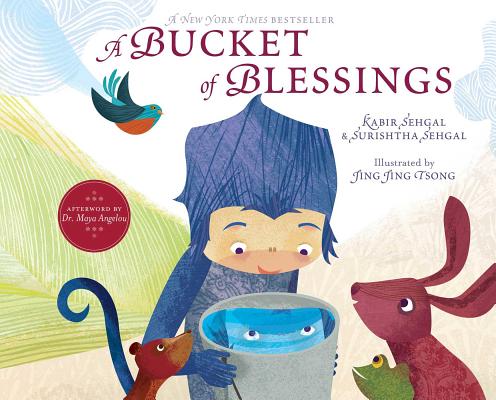 A Bucket of Blessings
Hardcover

* Individual store prices may vary.
Description
A beautiful myth from India comes to life in this enchanting, New York Times bestselling picture book.

Near a majestic mountain in a vast jungle with many mango trees, it has not rained for weeks and weeks. The village well and pond are dry. Monkey and his friends look everywhere for water, but they have no luck. And then Monkey remembers a story his mama used to tell him, a story about how peacocks can make it rain by dancing. So he sets out to see if the story is true…

This little-known legend, told with dramatic rhythm and illustrated with the colors and textures of India, is sure to delight and inspire.
Praise For A Bucket of Blessings…
"Kabir and Surishtha Sehgal, in their A Bucket of Blessings, have managed to inform the readership exquisitely of a thousand truths in just about a few hundred words. The reader is shown that it is a blessing to be a blessing. The authors deftly show the reader that when one's intent is to help another, people whose names they will never know and faces they will never see, will benefit. This is a wonderful children's story which adults will find delightful to read."
— Dr. Maya Angelou, award-winning author of I Know Why the Caged Bird Sings

"The illustrations are a combination of block printing and digital manipulation. . . the textures of the landscape are pleasing, and some double-page spreads--in particular, the storm and the peacock's dance--are striking."
— Kirkus Reviews, April 2014

"Tsong (Up in the Hawaiian Sky) illustrates this modest folktale with crisp artwork, assembling colored and patterned shapes to depict a mountainside in rural India. . . . In a striking spread, a single shaft of light makes a secret spring gleam; nothing could better convey the water's preciousness. . . . Kabir Sehgal and his mother, Surishtha, tell the story in the simplest prose; the wealth water represents is conveyed through Tsong's artwork. Some of the book's proceeds will benefit a water charity."
— Publishers Weekly, April 2014

"This is a story about the power of belief—and water. . . . Peacock radiates life, with bright colors and fanciful designs in his extraordinary tail. His persona juxtaposes well against Tsong's blue monkey. His childlike face adds to the book's imaginative and appealing nature."
— Booklist, April 2014

"A charming tale that encourages us to recognize our blessings and inspires us to find beauty in serving others."
— Rosalynn Carter, former First Lady of the United States

"This book will remind the youngest readers about the power of hope and how just one person can make a big difference."
— Marian Wright Edelman, President, Children's Defense Fund

"I was captivated by this story, and millions of children will be too."
— Gurcharan Das, columnist for the Times of India and author of India Unbound

"A simple, moving story with beautiful illustrations, A Bucket of Blessings will bring joy to children and parents alike. It embodies a positive message in a delightful way and is charmingly told. A classic in the making."
— Dr. Shashi Tharoor, Member of Parliament and Minister of State for Human Resource Development, Government of India

"Children are the most vulnerable to unsafe water. This story helps them learn the importance of bringing water to a village, and how water can be a spring of happiness and delight."
— Scott Harrison, Founder and CEO of charity: water

"A Bucket of Blessings is a delightfully illustrated book which describes for children the benefits of "giving back" to their communities and the world. It is a wonderful book to enjoy reading with children and grandchildren."
— Jeanne Shaheen, US Senator

"Based on an Indian myth, the story is one of perseverance and hope in the midst of trouble. . . . A nice addition to folklore collections."
— School Library Journal, June 2014

"In this Indian myth, Monkey and his neighbors need water because it has not rained for weeks. . . . This tale is beautifully illustrated using layers of color and texture through traditional stone printing. The brightness of the animals stands out; the lushness of the flowers is depicted through vibrant, patterned colors. This is a beautiful book which could be a great introduction to Indian culture. The authors' note will help readers understand the importance of the peacock in India. It is an absolutely delightful read!"
— Library Media Connection, October 2014, Highly Recommended
Beach Lane Books, 9781442458703, 32pp.
Publication Date: April 29, 2014
About the Author
Kabir Sehgal started his class newspaper in second grade and has been writing ever since. A bestselling author of several books, he is also a jazz bassist and Grammy Award–winning producer. He lives in New York City.

Surishtha Sehgal was a university professor for many years and now enjoys reading to children during story time. She is the founder of a nonprofit organization that promotes social responsibility among students, and she serves on the boards of two universities and a national arts center. She lives in Atlanta.

Jing Jing Tsong is a mom, musician, and surfer whose grown-up job is drawing pictures. Her technique, which layers color and texture, is influenced by her experiences working in traditional stone lithography and monoprints. Her debut picture book, A Bucket of Blessings, written by Kabir and Surishtha Sehgal, was a New York Times bestseller. Jing Jing and her husband Mike Austin (also a designer turned illustrator) live on an island in Washington state. Visit her at JingJingTsong.com.
Book Videos