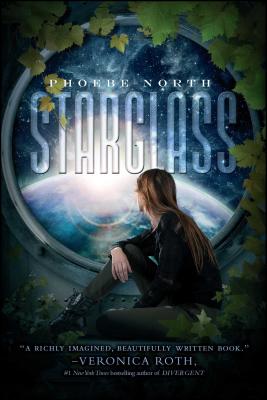 Starglass (The Starglass Sequence) (Paperback)
Simon & Schuster Books for Young Readers, 9781442459540, 464pp.
Publication Date: July 8, 2014
Other Editions of This Title:
Paperback (8/18/2015)
Hardcover (7/23/2013)
* Individual store prices may vary.
Description
In this futuristic, outer space thriller that #1 New York Times bestselling author Veronica Roth calls "richly imagined" and "beautifully written," Terra has to decide between supporting the rebellion she believes in—and saving the life of the boy she loves.

"This richly textured first novel deserves to be widely read" (Publishers Weekly).

For generations, those aboard the Asherah have lived within strict rules meant to help them survive the journey from a doomed Earth to their promised land, the planet Zehava—which may or may not be habitable, a question whose imperative grows now, in the dwindling months before touchdown.

Sixteen-year-old Terra's situation is tough. A dead mom. A grieving dad. A bitchy boss, and a betrothed who won't kiss her no matter how bad she wants it. She's doing her best to stay afloat, even when she gets assigned a vocation she has no interest in: botany.

But after Terra witnesses the Captain's guard murder an innocent man, she's drawn into a secret rebellion bent on restoring power to the people. The stakes are higher than anything she could have imagined. When the rebellion gives Terra an all-important mission, she has to decide where her loyalties lie for once and for all. Because she has started to fall for the boy she's been sent to assassinate…
About the Author
Phoebe North is the author of Starglass and Starbreak. She received her MFA in poetry at the University of Florida. She lives in New York State with her husband, her daughter, and her cat. Visit her at PhoebeNorth.com.
Praise For Starglass (The Starglass Sequence)…
"Starglass is a richly imagined, beautifully written book. It's science fiction, mystery, and coming of age story all wrapped into one; creative but also firmly grounded in a real human experience, with all its loss, pain, and disillusionment—but also beauty, hope, and belonging. A wonderful story."
— Veronica Roth, #1 New York Times bestselling author of Divergent

"Starglass is a poignantly written, gripping tale. I just loved it. I really enjoyed the political intrigue, the depth of the characters, the suspense, and the twists and turns, all with the backdrop of space and interstellar travel, which I love. It all felt so original. I can't wait for the sequel."
— James Dashner, New York Times bestselling author of The Maze Runner series

* "This richly textured first novel deserves to be widely read."
— Publishers Weekly, starred review

"A poignantly lovely frame story about leaving Earth and a lonely kid seeking something to invest in."
— Kirkus Reviews

"Immersive and compelling, Starglass is sci-fi with both brains and heart. Terra's search for belonging and authentic human connection is one to savor."
— Lenore Appelhans, author of The Memory of After

"Murder, rebellion, and spaceships done right: Phoebe North's Starglass gave me the best kind of chills. I can't wait to see what the sequel has in store."
— Jodi Meadows, author of Incarnate

"With its onion-skin layers of plots and subterfuge around issues of trust and loyalty—not to mention a very strong writing style—this stellar debut should have strong interest from dystopian fans. Hand to fans of Maria V. Snyder or Beth Revis."
— Booklist

"While there are certainly strong science-fiction overtones and dystopian influences, the claustrophobic nature of the ship grounds the characterization. This book offers an excellent resource to support diversity as marriage equality and LGBT issues are a dominant factor in the narrative, making it more interesting than many similar titles."
— School Library Journal

* "This absorbing page-turner [avoids] the clichéd extremes of much recent young adult science fiction...Terra herself is equal parts strength and vulnerability, neither preternaturally heroic nor innately naïve. Genuinely surprising revelations near the end and a lack of resolution suggest probable sequels to this first-rate science fiction novel, a worthy successor for Revis' Across the Universe."
— BCCB, starred review