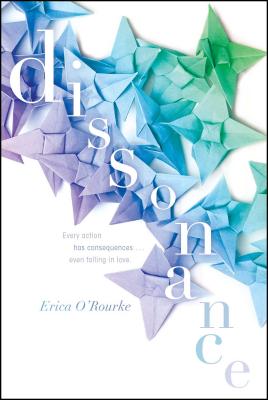 Dissonance (Paperback)
Simon & Schuster Books for Young Readers, 9781442460256, 512pp.
Publication Date: July 21, 2015
Other Editions of This Title:
Hardcover (7/22/2014)
* Individual store prices may vary.
Description
In this inventive romantic thriller, Del has the power to navigate between alternate realities—and the power to save multiple worlds.

Every time someone makes a choice, a new, parallel world is spun off the existing one. Eating breakfast or skipping it, turning left instead of right, sneaking out instead of staying in bed—all of these choices create alternate universes in which echo selves take the roads not traveled. Del knows this because she's a Walker, someone who can navigate between the worlds, and whose job is to keep the dimensions in harmony.

But Del's decisions have consequences too. Even though she's forbidden from Walking after a training session goes horribly wrong, she secretly starts to investigate other dissonant worlds. She's particularly intrigued by the echo versions of Simon Lane, a guy who won't give her the time of day in the main world, but whose alternate selves are uniquely interested. But falling for Simon draws Del closer to a truth that the Council of Walkers is trying to hide—a secret that threatens the fate of the entire multiverse.

"O'Rourke brilliantly builds an intricate and complex alternate science-fiction universe that contains beautiful imagery and visualization. A definite page-turner." —School Library Journal
About the Author
Erica O'Rourke is the author of Dissonance, Resonance, and the Torn trilogy, which includes Torn, Tangled, and Bound. She lives near Chicago with her family. Visit her at EricaORourke.com and on Twitter: @Erica_ORourke.