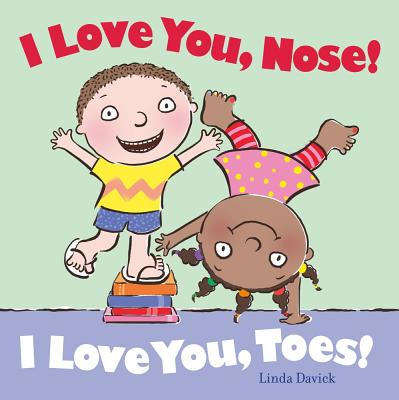 I Love You, Nose! I Love You, Toes! (Hardcover)
Beach Lane Books, 9781442460379, 32pp.
Publication Date: April 2, 2013
Description
A joyous picture book for the very young celebrating our incredible bodies, from a New York Times bestselling illustrator. Our wonderful bodies--aren't they amazing? Come celebrate all the things that make us who we are--from the tops of our heads to the tips of our toes, to our tummies, our freckles, our dimples, our skin, and everything in between With silly, rhyming text and bold, simple illustrations, this fun and frank approach to exploring body parts provides factual information that is just right for the young reader.
Praise For I Love You, Nose! I Love You, Toes!…
"This ode to children's bodies hits all the high and low notes…. The cheerful youngsters who fill the pages come in both genders and many ethnicities….The round-eyed, smiling, simplistic youngsters are appealing."



"From hair to tummies to toes and everything in between, Davick's peppy ode to all our parts successfully uses humor and a little age-appropriate information to deliver its energetic message about celebrating the bodies we've got. The infectious rhymes are well matched by clean, friendly illustrations, which feature large ice-cream-colored pages with wide-eyed, smiling kids front and center. Both the pictures' lack of background and the simple, bouncy text make this ideal for group sharing—though young listeners might find it hard to keep still. At times Davick seems to be encouraging kids to join in."



"A bubbly celebration of the human body. In upbeat, musical verse, children declare their love for their hair, their toes and everything in between. The text is funny, silly and sometimes irreverent…. Davick is careful to leave no body parts out of the raucous celebration…. Sharing this jolly, cheeky ode with little ones will produce some giggles while helping to instill an appreciation for the wondrous human body and all its necessary parts."


* "Illustrator Davick, in her first outing as author, leaves no body part uncelebrated…. With generously scaled, dramatically cropped compositions and a cheery schoolroom palette, Davick makes every page-turn a surprise and a renewed invitation to join the lovefest…. The unalloyed wonder and delight that animate these pages is like a breath of fresh air—and should win over the most reticent audiences."



"[A] beautifully orchestrated celebration of the human body. This is a perky paean to body parts, given from the perspectives of a bunch of very little kids…. Light, bouncy education for the youngest set."
Advertisement