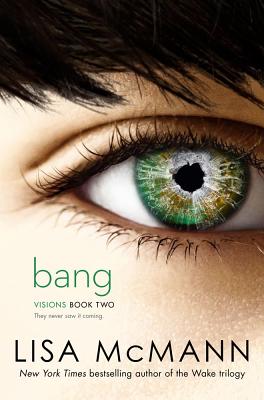 Bang (Visions #2) (Hardcover)
Simon Pulse, 9781442466258, 256pp.
Publication Date: October 8, 2013
* Individual store prices may vary.
Description
What Sawyer's seeing might mean murder. The second book in a series from the New York Times bestselling author of the Wake trilogy.

Jules should be happy. She saved a lot of people's lives and she's finally with Sawyer, pretty much the guy of her dreams. But the nightmare's not over, because she somehow managed to pass the psycho vision stuff to Sawyer. Excellent.

Feeling responsible for what he's going through and knowing that people's lives are at stake, Jules is determined to help him figure it all out. But Sawyer's vision is so awful he can barely describe it, much less make sense of it. All he can tell her is there's a gun, and eleven ear-splitting shots. Bang.

Jules and Sawyer have to work out the details fast, because the visions are getting worse and that means only one thing: time is running out. But every clue they see takes them down the wrong path. If they can't prevent the vision from happening, lives will be lost. And they may be among the casualties…
About the Author
Lisa McMann is the New York Times bestselling author of the middle grade dystopian fantasy series The Unwanteds, the YA paranormal Wake trilogy, and several other books for kids and teens. She lives with her family in the Phoenix area. Check out Lisa's website at LisaMcMann.com, learn more about The Unwanteds Series at UnwantedsSeries.com, and be sure to say hi on Instagram or Twitter (@Lisa_McMann), or Facebook (Facebook.com/McMannFan).