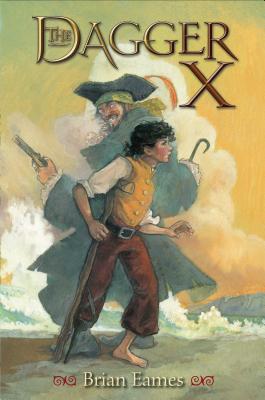 The Dagger X (The Dagger Chronicles)
Hardcover

* Individual store prices may vary.
Other Editions of This Title:
Paperback (11/12/2013)
Description
Kitto's adventure continues in the suspenseful sequel to The Dagger Quick, which School Library Journal called a "quest perfect for landlubbers and pirate aficionados alike."

On the high seas of the Caribbean in the 1600s, a twelve-year-old boy, Kitto, stands wrongly accused of his father's murder and is forced into adulthood too quickly as he tries to prove his innocence. After a brutal shark attack, Kitto must take refuge on a forsaken island that holds a store of valuable nutmeg, with its power to make men as rich as kings.

When he encounters the notorious Alexandre Exquemelin, known as X, he discovers a dark secret about his own past and identity. Will the events of Kitto's past determine his fate, or will he have the courage to forge his own destiny?

A tale of friends and fiends, good and evil, pirates and predators, and the thrill of the high seas, The Dagger X is an exciting adventure and classic story of the search for manhood and identity.
Praise For The Dagger X (The Dagger Chronicles)…
Ahoy, mateys! Be ye brave, clever, able to fight crocodiles and willing to eat turtle cooked over an open fire? Then leap into the drink of the next installment of the Dagger Chronicles, if ye dare.

Christopher Quick, called Kitto, has wished all his life he hadn't been born with a club foot, but when he loses it to the teeth of a shark while saving his friend Van from drowning, he has to adjust to a brand new peg leg. It doesn't help that he and four others are stranded on an island where the landscape is rough. When a pirate crew lands on the island as well, things get heated, but Kitto finds a solution in the form of a common enemy and ties to the past that are buried deeper than buried treasure. With detailed prose, elementary school teacher Eames relays his characters' fast-paced adventures with just the right blend of history and excitement. His greatest talent lies in delivering action sequences in a way that maintains momentum and delivers information, all with an eye toward historical accuracy.

Smart, nuanced adventure that asks big questions.
— Kirkus Reviews


This book picks up where The Dagger Quick (S & S, 2011) left off. It is September 1678, and 12-year-old Kitto wakes up to realize that he has lost a leg to a shark attack and that he, his stepmother, and his friend are stranded on a Carribbean island with Ontoquas, a Native American girl, and the baby she rescued during her escape from a slave-trading ship. With her help, Kitto discovers that a cave on the island holds the large treasure that his uncle had been planning to recover when his ship was attacked by pirates under the command of the vengeful Captain John Morris. When another group of pirates arrives, the ragtag group decides to join forces to outwit Morris, escape the island, and try to find Kitto's younger brother and uncle. This exciting tale has all of the essential elements of a grand adventure–a flamboyant, hook-handed pirate; bloody battles; hidden treasure; a vicious crocodile; and a peg-legged boy–and the inclusion of escaped slaves and Native Americans makes for a unique and well-rounded story. Readers will root for Kitto and his companions as they use their wit and courage to fight against seemingly impossible circumstances, and most will finish The Dagger X eager to see what happens to the characters in Eames's next volume
— School Library Journal
Simon & Schuster/Paula Wiseman Books, 9781442468559, 368pp.
Publication Date: November 12, 2013
About the Author
Brian Eames has taught for fifteen years at the Paideia School, a K–12 independent school in Atlanta. He read his first novel, The Dagger Quick, out loud to his class as he wrote it. Publishers Weekly called The Dagger Quick "thoroughly researched, fast-paced, and tense…embraces the mythical glamour of a pirate's life." He lives with his wife and children in Atlanta. Visit him at TheDaggerQuick.com.
or
Not Currently Available for Direct Purchase