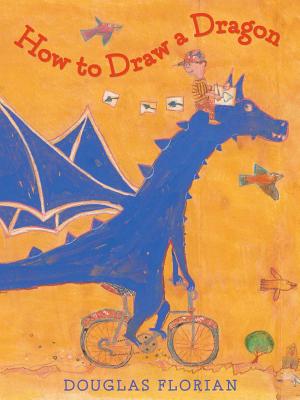 How to Draw a Dragon
Hardcover

* Individual store prices may vary.
Description
Pull out your pencils! Everyone's an artist in this lively and inspiring picture book full of wit, whimsy, and wacky imagination…and dragons, of course!

Dragons of all shapes and sizes are on display in this high-flying how-to picture book from celebrated author-illustrator Douglas Florian. Get ready to meet dragons who love singing, cycling, playing musical instruments, and more—and learn to draw each one along the way. Then at the end there's a big surprise: a dragon-drawing art show for all!
Praise For How to Draw a Dragon…
The illustrations, while evoking children's own drawings and collages, are quite sophisticated in their use of texture, photo and fabric, as well as matte and transparent color...The genders of the dragons are indicated by pronouns, so readers (and artists) are not stuck with a passel of only boy dragons. The rhyme flows smoothly with its whimsical advice...This rhyming romp will no doubt spur multiple requests for rereading—and redrawing.
— Kirkus Reviews

This how-to book takes a very practical approach to drawing dragons. It begins with an simple instruction: "Drawing dragons isn't hard. / Drag a dragon to your yard." Indeed, we see several children using little red wagons to drag home sleeping dragons. The key, you see, is to use actual dragons as models. Florian takes readers through the tongue-in-cheek practicalities associated with doing life drawings of these huge (and often grumpy) beasts...Florian's illustrations are...kidlike, rendered in pencil, crayon, paints, and bit of collage, which subtly bring in the medieval world with inserts of tiny castles and walled cities. Gently comic in tone and with an almost hunt-and-find visual approach, this book might be meta, but it's also just straightforward fun.
— Booklist *STARRED REVIEW

Florian speaks to dragon-loving children everywhere in this ode to creativity, imagination, and fire-breathers. Dragons act as models for the book's budding young artists, and the story ends at an elementary-school art show with all the muses receiving their place in the sun...When it comes to Florian's glorious illustrations, childlike is an understatement. Each spread, done in bold-hued mixed media, looks like it was dashed off by an amateur; at first glance you can easily see the outside-the-lines crayons, broad brushstrokes, and ragged edges of cut paper. But it takes precision to be this messy, and closer inspection reveals bits of collage materials (e.g., patterns of birds, insects, and butterflies throughout), along with a use of perspective and depth that points to the work of a seasoned artist. The penciled-up endpapers showing various dragon parts also look like a kid drew them, and a kid could use them to draw his or her own mythological beast—all without once being told, specifically, how.
— The Horn Book

Award-winning author and poet Florian captures the imagination of children again in this brilliantly simple picture book. Repetitive, rhyming text and childlike crayon drawings offer advice to budding artists on the secrets of capturing the larger-than-life beasts on paper. "Draw your dragons painted spines/using lots of jagged lines." Each spread has a stanza consisting of one or two sentences, along with a picture of a dragon and a proud artist —highlighting the creativity of a group of multicultural children. This oversize package literally turns itself on its side to get the point across and gives helpful tips along the way. "Dragonfire has reds and yellows,/and its good to toast marshmallows." Rhyming text employs similar vowel sounds and alliteration that, along with the pictures, assist readers in sounding out new words. All of the couplets lead to a satisfying conclusion as all of the drawings appear in the Dragon Art Show at P.S. 117 in a huge gatefold display. VERDICT This book will appeal to a wide audience: beginning readers, budding artists, and dragon lovers alike.–Kristine M. Casper, Huntington Public Library, NY
— School Library Journal

Rhyming couplets offer a diverse cast of child artists advice in Douglas Florian's (Poem Runs: Baseball Poems and Paintings) tongue-in-cheek picture book.

A child pulls a slumbering dragon, snoutfirst, through his neighborhood in a red wagon, as if it's the most natural thing in the world. "Drawing dragons isn't hard. Drag a dragon to your yard," says the accompanying text, which opens the book. A swirl of green paint indicates grassy rings around homes surrounded by picket fences, while gray and yellow pastels mark the sidewalks and roadways. Collage elements include a snail and peacock. The rhyming couplets continue in the next yard, belonging to a boy carrying a T-square, colored pencils and other tools ("Dragons may be large in size. You'll need lots of art supplies"). In the third scene, however, a pink dragon in a circle, like an overlarge napping kitten, rests on a rooftop as a child draws from a perch on the dragon's back ("Dragons, when they wake, are grumpy./ and their heads are rather bumpy"). Florian varies the color schemes and perspectives: a girl sketches within a dragon's mouth; a redheaded boy draws another's claw as the dragon, in turn, draws the boy. One girl holds an umbrella to deflect a dragon's sneeze, while another boy toasts marshmallows in a dragon's fire. Always, the children draw and sketch.

The culminating foldout spread delivers a lovely surprise that reinforce's art's ability to capture a moment for posterity. --Jennifer M. Brown, children's editor, Shelf Awareness
Discover: A gallery of dragons, introduced in rhyming couplets and drawn by a cast of child artists.
— Shelf Awareness

This fanciful rhyming guide offers helpful art advice for the challenging task of dragon-drawing ("Dragons may be large in size./ You'll need lots of art supplies"). The book offers tips to keep your subject calm ("Soothe your dragon with a song") and to get the best perspectives ("Draw your dragon's wings in flight,/ but don't look down—and hold on tight!"). Established poet Florian capably anchors the whimsical scenario in specifics, and the second-person address adds humorous immediacy....The mixed-media illustrations have the artist's usual translucent colors and rough, organic lines that give a childlike flavor to his draftsmanship; collage elements add further interest to the dreamily unstable backgrounds....It's...an entertaining conceit and a lively verse, though, and eager dragon artists will appreciate the detailed diagram on the endpapers.
— Bulletin
Beach Lane Books, 9781442473997, 42pp.
Publication Date: April 14, 2015
About the Author
Douglas Florian is the creator of many acclaimed picture books including How to Draw a Dragon, UnBEElievables, Poetrees, and Dinothesaurus. He lives with his family in New York.

Douglas Florian is the creator of many acclaimed picture books including How to Draw a Dragon, UnBEElievables, Poetrees, and Dinothesaurus. He lives with his family in New York.