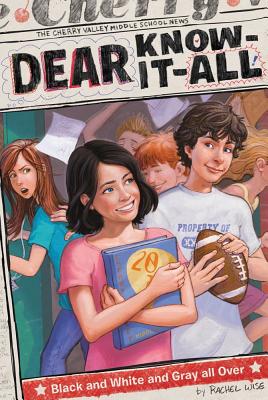 Black and White and Gray All Over (Dear Know-It-All #7) (Paperback)
Simon Spotlight, 9781442475151, 160pp.
Publication Date: May 21, 2013
Other Editions of This Title:
Hardcover (5/21/2013)
* Individual store prices may vary.
Description
Sam needs some serious advice when a new staff member competes for newspaper bylines—and for her crush's attention.

Cherry Valley is abuzz when a new girl comes to town from the UK. Kate Bigley has dark hair, bright blue eyes, and an English accent—and she has dreams of being a reporter. Mr. Trigg is thrilled when Kate joins the Cherry Valley Voice staff, but Sam is less excited to have some competition. Especially when Kate is paired up with Michael Lawrence for the next big cover story. What if Sam's crush gets a crush on someone else?
About the Author
Rachel Wise loves to give advice. When she's not editing or writing children's books, which she does full-time at a publisher in New York, she's reading advice columns in newspapers, magazines, and blogs—and is always sure her advice would be better! Her dream is to someday have her own talk show, where she could share her wisdom with millions of people at once, but for now she's happy to dole out advice in small portions in Dear Know-It-All books.