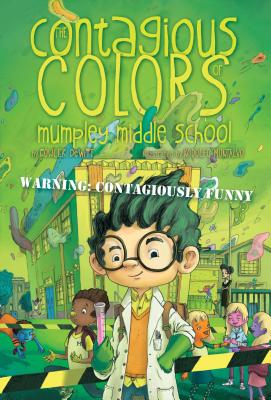 The Contagious Colors of Mumpley Middle School (Paperback)
Atheneum Books for Young Readers, 9781442478305, 288pp.
Publication Date: August 26, 2014
* Individual store prices may vary.
Description
Something strange is happening to the sixth grade—and it's up to student scientist Wilmer Dooley to crack the case in this hilarious mystery "filled with entertaining twists and nutty characters" (Publishers Weekly).

If there's one important thing Wilmer Dooley's dad always says, it's this: "Where are my car keys?"

Okay, maybe not that. He also says: "Observe!"

Wilmer has always known that the greatest science comes from the keenest observations. So when he observes his classmates looking a little green…and orange...and chartreuse-fuchsia polka-dotted...he knows that it's up to him to find the cause of this mysterious illness—and its cure.

But with his arch nemesis, Claudius Dill, hot on his heels; the eagle-eyed biology teacher, Mrs. Padgett, determined to thwart his plans; and a host of fluorescent classmates bouncing off the walls at increasingly dangerous speeds, can Wilmer prove he has what it takes to save the sixth grade from a colorful demise before it's too late?
About the Author
Fowler DeWitt has been called "The World's Greatest Living Author" by three of his aunts. His worldwide fame spread early when, as a child, he discovered the rare radioactive mineral now known as Fowlerite. Although his accomplishments are too many to mention in a single paragraph, DeWitt also owns the world's largest collection of mustaches. He currently lives by himself but refuses to divulge where due to his crippling phobia of hats. You can learn more about DeWitt on his Facebook page.

Biographer's note: Some claim Fowler DeWitt is the same person as children's author Allan Woodrow, since they have never been spotted in the same room together. But if they were the same person they'd always be in the same room together. As such, these claims cannot be substantiated. You can make your own conclusions by visiting Woodrow and DeWitt's shared website: AllanWoodrow.com.

Rodolfo Montalvo started drawing so early in life that he doesn't even remember when he first started doing it. No matter where he was or what he did growing up, drawing was always a part of him. Today, he feels very fortunate to be able to work as an illustrator and hopes to keep drawing and writing into old age alongside his wife, René, who is also an artist. Montalvo lives in Long Beach, California, and you can visit him online at RodolfoMontalvo.com.
Praise For The Contagious Colors of Mumpley Middle School…
"Wilmer Dooley is a budding scientist, and he has a serious crush on fellow sixth-grader Roxie McGhee. So when a virus breaks out at school, and Roxie falls ill, Wilmer dedicates himself to finding the cure, which could also win him the sixth-grade science medal. The virus turns people vibrant colors and gives them excessive energy, just one of the offbeat touches in this exuberant novel from DeWitt (a pseudonym for author Allan Woodrow), which mixes Wilmer's scientific journal entries into a lively third-person narrative. . . the good guys have science on their side as they fight for the cure and the medal. Filled with entertaining twists and nutty characters, DeWitt's story celebrates friendship and perseverance."

"THE CONTAGIOUS COLORS OF MUMPLEY MIDDLE SCHOOL by Fowler DeWitt is funny, educational and fast-paced, holding interest for the reader throughout the entire book. The actual historical and scientific facts added to the humorous content are an important facet of the book—it brings every character and the story line to life. Family values are integrated into the story as well as the friendships and hardships associated with being a middle school student. DeWitt's descriptive words and phrases are fabulous. Wilmer's journal entries are such an asset to the contents of the story. It gives you the firsthand thoughts of an intelligent, observant and thoughtful sixth grader."

"A fun, fast-paced story that should appeal to a wide range of both reluctant and avid middle grade readers."

"Wilmer Dooley wants to be a scientist when he grows up. . . . He approaches life using observations and hypotheses to figure out everything from how to get his crush, Roxie, to notice him to solving the mysterious epidemic that is plaguing the students of Mumpley Middle School. . . . Wilmer is a likable protagonist who approaches life with caution but isn't afraid to dive in and get his hands dirty when necessary. Quirky and humorous, this book will find an appreciative audience. The over-the-top digs at our junk-food culture and the silly character names add to the enjoyment."