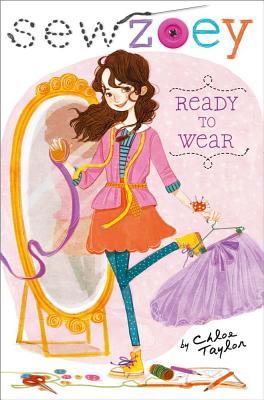 Ready to Wear (Hardcover)
Simon Spotlight, 9781442479340, 176pp.
Publication Date: June 4, 2013
Description
A tween fashion designer's blog garners A-list attention in this chic start to a new middle grade series. Over the summer, fashion-loving Zoey Webber gets the best news ever: Her middle school is getting rid of uniforms There's just one problem. Zoey has sketchbooks full of fashion designs, but nothing to wear So with a little help from her best friends Kate and Priti, she learns to make her own clothes. She even begins to post her fashion design sketches online in a blog. That's how the Sew Zoey blog begins, and soon it becomes much more. Zoey's quirky style makes her a bit of a misfit at middle school, but her Sew Zoey blog quickly gains a dedicated following. Real fashion designers start to read it Yet even as her blog takes off, Zoey still has to deal with homework, crushes, and P.E. class. And when the principal asks her to design a dress for the school's fashion-show fund-raiser, Zoey can't wait to start sewing But what will happen when her two worlds collide?
Praise For Ready to Wear…
"Most novels about fashion end up being more about little divas than about the clothing; this is an exception. This story celebrates the rewards of personal creativity and risks of self-expression. . . . This book will appeal to a middle-grade crowd that isn't into vampires and dystopias, as well as to those who create art with their hands."

"An aspiring fashion designer is the affable heroine of this first book in the Sew Zoey series. . . . In a smoothly written story of overcoming challenges with ingenuity and style, Taylor shows a knack for characterization and dialogue, and her detailed descriptions of Zoey's designs will entice young fashionistas."

"Zoey Webber is a funky fashionista stuck in a gray-polyester-uniform world. The first book in a delightful new series, this will appeal to any girl finding her own style. Zoey is a bubbly and vivacious character who doesn't let insecurities take command."
Advertisement