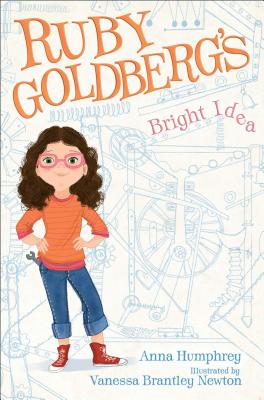 Ruby Goldberg's Bright Idea
Paperback

* Individual store prices may vary.
Other Editions of This Title:
Hardcover (12/31/2013)
Description
Ruby wants first prize at the fifth grade science fair—and she thinks her quirky, creative, Rube Goldberg–esque invention is just the way to get it! Rife with "depth and charm," this story is peppered with engaging science facts and insights (Publishers Weekly).

Ten-year-old Ruby Goldberg is determined to win her school science fair and beat her nemesis Dominic Robinson. She's snagged second place for the last two years, and she's set on claiming first prize. The only trouble is that Ruby has no ideas. When her grandfather's beloved basset hound dies, Ruby thinks of the perfect thing that will cheer him up and win her first place—an innovative, state-of-the-art, not-to-be-duplicated Ruby Goldberg invention!

Before long Ruby is so busy working on her idea that she ignores everything else in her life, including her best friend, Penny. And what started out as simple turns into something much more complicated! Can Ruby get her priorities—and her project—in order before it's too late?
Simon & Schuster Books for Young Readers, 9781442480292, 144pp.
Publication Date: January 20, 2015
About the Author
Anna Humphrey is the author of Rhymes with Stupid and Mission (un)Popular, both novels for teens. Ruby Goldberg's Bright Idea is her first novel for middle graders. She lives with her husband and kids in Toronto, Ontario.

Vanessa Brantley-Newton is a self-taught artist and has attended both FIT and SVA of New York, where she studied fashion and children's illustration. Vanessa is the illustrator of A Night Out with Mama by Quvenzhané Wallis, The Youngest Marcher by Cynthia Levinson, Presenting…Tallulah by Tori Spelling, and Early Sunday Morning by Denene Millner, among others. She hopes that when people look at her work, it will make them feel happy in some way, or even reclaim a bit of their childhood.