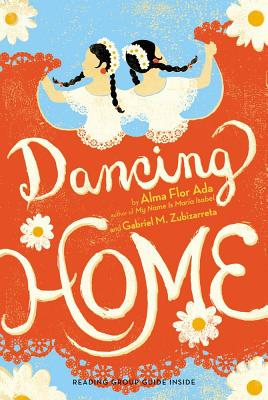 Dancing Home (Paperback)
Atheneum Books for Young Readers, 9781442481756, 147pp.
Publication Date: February 5, 2013
* Individual store prices may vary.
Description
In this timely tale of immigration, two cousins learn the importance of family and friendship. A year of discoveries culminates in a performance full of surprises, as two girls find their own way to belong.

Mexico may be her parents' home, but it's certainly not Margie's. She has finally convinced the other kids at school she is one-hundred percent American--just like them. But when her Mexican cousin Lupe visits, the image she's created for herself crumbles. Things aren't easy for Lupe, either. Mexico hadn't felt like home since her father went North to find work. Lupe's hope of seeing him in the United States comforts her some, but learning a new language in a new school is tough. Lupe, as much as Margie, is in need of a friend. Little by little, the girls' individual steps find the rhythm of one shared dance, and they learn what "home" really means. In the tradition of My Name is Maria Isabel--and simultaneously published in English and in Spanish--Alma Flor Ada and her son Gabriel M. Zubizarreta offer an honest story of family, friendship, and the classic immigrant experience: becoming part of something new, while straying true to who you are.
Praise For Dancing Home…
"The third-person narration shifts its focus gently from girl to girl, allowing readers access to their thoughts and feelings.... Although sometimes wise beyond their years, Margie and Lupe will charm readers as each girl struggles for belonging and acceptance in this realistic novel."
--KIRKUS REVIEWS, June 1, 2011



"This story will assist readers in embracing their own heritage and developing an appreciation for their classmates' backgrounds. It's an enjoyable offering (and a great read-aloud) that will capture readers' attention and have them rooting for the cousins and their friendships and family relationships."
--School Library Journal, July 2011



"Ada, the author of many multicultural titles, including Tales Our Abuelitas Told: A Hispanic
Folktale Collection (2006), and Zubizarreta write knowingly of the difficulties of a life lived in two
cultures. A subplot involving Lupe's father (who came to America illegally and later abandoned his
family) is also well handled, as is the inclusion of a Ruben Dario poem, "To Margarita." Give this to fans
of Pam Muñoz Ryan's Esperanza Rising (2000) and Becoming Naomi Leon (2004)."
--Booklist, July 1, 2011



"It is the friendship between the girls and the tall, blond Camille…that makes this an absorbing novel for readers of any background. And the authors…handle the narrative with tenderness and charm."
--The New York Times Book Review, July 17, 2011



"Ada and Zubizarreta tackle important topics including immigration, bilingual education, and bullying. This book will speak intimately to readers straddling different cultures and grappling with what it means to be an American."
--Library Media Connection, November/December 2011