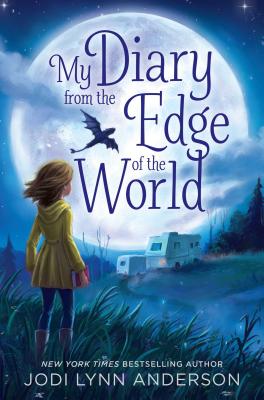 My Diary from the Edge of the World
Hardcover

* Individual store prices may vary.
Other Editions of This Title:
Paperback (1/10/2017)
Description
Told in diary form by an irresistible heroine, this playful and perceptive novel from the New York Times bestselling author of the May Bird trilogy sparkles with science, myth, magic, and the strange beauty of the everyday marvels we sometimes forget to notice.

Spirited, restless Gracie Lockwood has lived in Cliffden, Maine, her whole life. She's a typical girl in an atypical world: one where sasquatches helped to win the Civil War, where dragons glide over Route 1 on their way south for the winter (sometimes burning down a T.J. Maxx or an Applebee's along the way), where giants hide in caves near LA and mermaids hunt along the beaches, and where Dark Clouds come for people when they die.

To Gracie it's all pretty ho-hum…until a Cloud comes looking for her little brother Sam, turning her small-town life upside down. Determined to protect Sam against all odds, her parents pack the family into a used Winnebago and set out on an epic search for a safe place that most people say doesn't exist: The Extraordinary World. It's rumored to lie at the ends of the earth, and no one has ever made it there and lived to tell the tale. To reach it, the Lockwoods will have to learn to believe in each other—and to trust that the world holds more possibilities than they've ever imagined.
Praise For My Diary from the Edge of the World…
* Gracie Lockwood is a spirited girl and journal writer, who lives with her parents, brother, and sister right down the street from a T.J. Maxx that was recently burned down by dragons. Her world mirrors ours, in that there is a Wendy's, Taco Bell, and MacDonald's off of Route 1. It differs, however, because Sasquatches roam the forests, depressed ghosts linger, and for a pretty penny, one can hire a guardian angel should one require protection. Perhaps the most ominous thing about her world is the fact that dark clouds visit the homes of anyone whose life they're about to take. When such a cloud appears over Gracie's home, the family believes it has come for her ailing younger brother, Sam. Their one chance at outrunning his death is crossing over into, "The Extraordinary World." Her father, a somewhat unreliable scientist believes that a parallel universe exists, one in which humans thrive without the death clouds and other dangers found in their own world. When the Lockwoods purchase a Winnebago to flee their town in pursuit of "The Extraordinary World," readers are taken on a fun-filled, well-paced, modern adventure. VERDICT Fans of J.K. Rowling's "Harry Potter" will enjoy this heartfelt, bittersweet, and ever-so-clever coming-of-age fantasy. It is a must-add to any middle grade collection.
— School Library Journal STARRED REVIEW

"Fans of J.K. Rowling's "Harry Potter" will enjoy this heartfelt, bittersweet, and ever-so-clever coming-of-age fantasy. It is a must-add to any middle grade collection."
— School Library Journal STARRED REVIEW

Livingin Camden, Maine, 12-year-old Gracie Lockwood is used to dragons, giants, andvampires. Even her grandmother, a witch living in the Smokey Mountains, keepsghosts in her backyard. When a Dark Cloud, a harbinger of death, arrives at thefamily's doorstep, Gracie, her siblings, their parents, and her orphaned friendOliver escape their beloved town in a Winnebago. They embark on a journeyacross the country in search of the Extraordinary World, a place withoutsupernatural beings, believed to be a myth by everyone except Gracie'sabsent-minded father. Anderson (Tiger Lily) infuses the novel, written in theform of Gracie's diary, with effervescent magic and harrowing adventure, andevery enticing cliffhanger makes it difficult to put down. Gracie and familyweather a soul-stealing genie, phantom ships, and a weak-kneed guardian angelnamed Virgil in their escape from death, only to discover the necessity inaccepting one's fate and the importance of family. Anderson leaves no stoneunturned as she creates characters with zest and heart, as well as settingsthat encompass the best of all imaginary land.
— Publishers Weekly *STARRED REVIEW*

Within the pages of Gracie Lockwood's diary is an extraordinary adventure: her family embarking to save

her sickly little brother, Sam. Gracie's world is strikingly similar to our own, except it is inhabited by

dragons, poltergeists, sasquatch, and mermaids. When a Dark Cloud, a bringer of death, settles in the

Lockwoods' backyard, the family decides to try to outrun it before it can take Sam. They pack up a

Winnebago and, joined by Gracie's friend, set out across the country with plans to escape into the

Extraordinary World. Gracie's thoughtful, fresh-eyed perspective is the perfect lens through which to view

Anderson's alternate Earth, which tweaks history and familiar landscapes to accommodate its supernatural

residents. Mentions of string theory and parallel universes serve as fleeting explanations for the existence

of other worlds and endless possibility, yet the crux of the story lies in the closeness of the Lockwood

family, which is challenged and strained along the journey and proves to be the most magical element of

all.
— Booklist
Aladdin, 9781442483873, 432pp.
Publication Date: November 3, 2015
About the Author
Jodi Lynn Anderson is the bestselling author of several critically acclaimed books for young people, including the May Bird trilogy, the Thirteen Witches series, and My Diary from the Edge of the World. She lives with her husband, son, and daughter in Asheville, North Carolina, and holds an MFA in writing and literature from Bennington College.