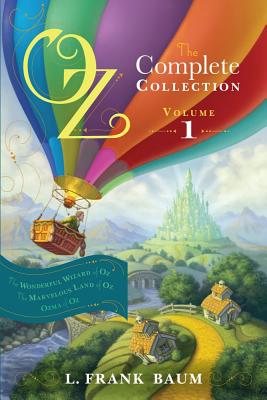 Oz, the Complete Collection, Volume 1
The Wonderful Wizard of Oz; The Marvelous Land of Oz; Ozma of Oz
Paperback

* Individual store prices may vary.
Other Editions of This Title:
Paperback (3/5/2013)
Paperback (3/5/2013)
Paperback (1/29/2013)
Hardcover (3/5/2013)
Hardcover (1/29/2013)
Hardcover (1/29/2013)
Paperback (3/5/2013)
Hardcover (3/5/2013)
Hardcover (3/5/2013)
Description
Discover the marvelous land of Oz in this collection of the first three books in L. Frank Baum's classic American fairy tale series.

The first three books of the iconic Oz series, now in one collection!

In The Wonderful Wizard of Oz, Dorothy and her dog, Toto, find themselves in a strange land called Oz after their Kansas house is swept away by a cyclone. Here they meet the Munchkins and join the Scarecrow, Tin Woodman, and the Cowardly Lion on an unforgettable journey to the Emerald City, where the all-powerful Wizard of Oz lives. Can he help Dorothy return home?

In The Marvelous Land of Oz, a young boy named Tip escapes from a witch and sets out to explore land of Oz. Along the way, he meets the Scarecrow and Tin Woodman, as well as some new friends like Jack Pumpkinhead and the Wooden Sawhorse. Eventually, Tip's journey takes him to the Emerald City, where he realizes that his life will be changed forever.

In Ozma of Oz, Dorothy is sailing to Australia when a huge storm washes her overboard. She only survives by clinging to a chicken crate. Eventually she and a yellow hen named Billina wash up on the magic shore of Ev where they meet the mechanical man Tik Tok. But Dorothy and Billina are taken prisoner by the evil Nome King who has captured the royal family of Ev. Only Ozma of Oz can save them, but will she be in time?
Aladdin, 9781442485471, 592pp.
Publication Date: January 29, 2013
About the Author
Lyman Frank Baum was born in Chittenango, New York, on May 15, 1856. Over the course of his life, Baum raised fancy poultry, sold fireworks, managed an opera house, opened a department store, and an edited a newspaper before finally turning to writing. In 1900, he published his best known book The Wonderful Wizard of Oz. Eventually he wrote fifty-five novels, including thirteen Oz books, plus four "lost" novels, eighty-three short stories, more than two hundred poems, an unknown number of scripts, and many miscellaneous writings. Baum died on May 6, 1919. He is buried in the Forest Lawn Memorial Park Cemetery, in Glendale, California.