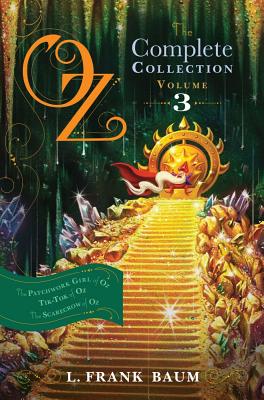 Oz, the Complete Collection, Volume 3
The Patchwork Girl of Oz; Tik-Tok of Oz; The Scarecrow of Oz
Paperback

* Individual store prices may vary.
Other Editions of This Title:
Paperback (1/29/2013)
Paperback (1/29/2013)
Hardcover (1/29/2013)
Hardcover (3/5/2013)
Hardcover (1/29/2013)
Paperback (3/5/2013)
Paperback (3/5/2013)
Hardcover (3/5/2013)
Hardcover (3/5/2013)
Description
Explore the wonder of Oz in this collection of books seven through nine in L. Frank Baum's classic American fairy tale series.

The seventh, eighth, and ninth titles of the iconic Oz series, now in one collection!

In The Patchwork Girl of Oz, the Munchkins Unc Nunkie and Ojo the Unlucky call on the Crooked Magician, who introduces them to his latest creation: a living girl made out of patchwork quilts and cotton stuffing. But when an accident leaves beloved Unc Nunkie a motionless statue, it is up to Ojo to save him. Can the mighty Wizard of Oz help?

In Tik-Tok of Oz, Betsy Bobbin and her loyal mule, Hank, wash up on the shores of an unknown fairyland during a storm. There they meet the clockwork man Tik-Tok and find themselves trapped in a battle with the king of the Nomes.

In The Scarecrow of Oz, Cap'n Bill and Trot journey to Oz and, with the help of the Scarecrow, overthrow the cruel King Krewl of Jinxland, who has been busy gathering an army for an invasion of Oz. Will they be able to stop the invasion?
Aladdin, 9781442485495, 720pp.
Publication Date: March 5, 2013
About the Author
Lyman Frank Baum was born in Chittenango, New York, on May 15, 1856. Over the course of his life, Baum raised fancy poultry, sold fireworks, managed an opera house, opened a department store, and an edited a newspaper before finally turning to writing. In 1900, he published his best known book The Wonderful Wizard of Oz. Eventually he wrote fifty-five novels, including thirteen Oz books, plus four "lost" novels, eighty-three short stories, more than two hundred poems, an unknown number of scripts, and many miscellaneous writings. Baum died on May 6, 1919. He is buried in the Forest Lawn Memorial Park Cemetery, in Glendale, California.