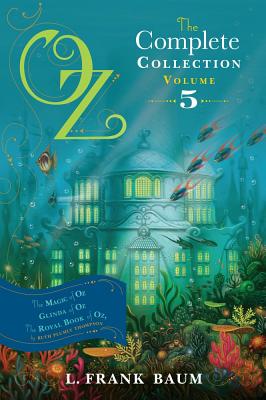 Oz, the Complete Collection, Volume 5
The Magic of Oz; Glinda of Oz; The Royal Book of Oz
Paperback

* Individual store prices may vary.
Other Editions of This Title:
Paperback (3/5/2013)
Paperback (1/29/2013)
Hardcover (3/5/2013)
Paperback (1/29/2013)
Hardcover (1/29/2013)
Hardcover (1/29/2013)
Paperback (3/5/2013)
Hardcover (3/5/2013)
Hardcover (3/5/2013)
Description
Revel in the magic of Oz in this collection of the final three books in L. Frank Baum's classic American fairy tale series.

The three concluding titles of the iconic Oz series, now in one collection!

In The Magic of Oz, the mischievous Kiki Aru has discovered a magical word that can transform him and anyone else into whatever he wants. Worse yet, Kiki has been recruited by the villainous Nome King in his latest attempt to get revenge on Princess Ozma and all her friends. Can Dorothy and the Wizard stop the evildoers before they conquer Oz? Or will Kiki's incredible powers finally give the Nome King the revenge he has craved for so long?

In Glinda of Oz, Dorothy and Ozma journey to a remote part of Oz to stop a war between the Flatheads and the Skeezers. But the Flatheads and Skeezers have a different idea. Soon Ozma and Dorothy are trapped in an amazing crystal-domed city on an enchanted island. The watertight city submerges itself, and only the Wizard and Glinda can save them—but will they make it in time?

In The Royal Book of Oz, the Scarecrow goes to search for his family roots. He returns to the cornfield where Dorothy first found him and discovers that he is the Long Lost Emperor of the Silver Island. Will he decide to stay there? Or will he return to Oz?
Aladdin, 9781442485518, 576pp.
Publication Date: March 5, 2013
About the Author
Lyman Frank Baum was born in Chittenango, New York, on May 15, 1856. Over the course of his life, Baum raised fancy poultry, sold fireworks, managed an opera house, opened a department store, and an edited a newspaper before finally turning to writing. In 1900, he published his best known book The Wonderful Wizard of Oz. Eventually he wrote fifty-five novels, including thirteen Oz books, plus four "lost" novels, eighty-three short stories, more than two hundred poems, an unknown number of scripts, and many miscellaneous writings. Baum died on May 6, 1919. He is buried in the Forest Lawn Memorial Park Cemetery, in Glendale, California.