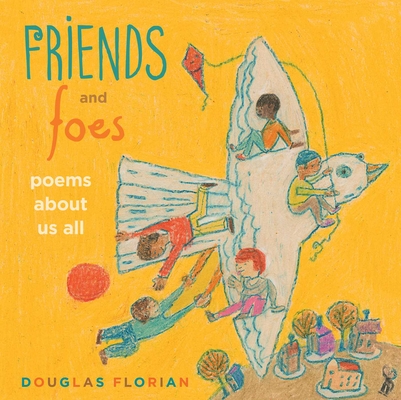 Friends and Foes
Poems About Us All
Hardcover

* Individual store prices may vary.
Description
In the tradition of Shel Silverstein, celebrated picture book poet Douglas Florian offers an honest, touching, and often humorous collection of twenty-three poems about relationships—both good and bad!

There are all kinds of friends—good friends, bad friends, old friends, new friends…even imaginary friends! This humorous, heartfelt, and refreshingly honest collection of poems explores the many facets of friendship with Douglas Florian's signature sense of silliness and wit.
Praise For Friends and Foes: Poems About Us All…
Florian explores both the joys and conflicts of having a friend. Twenty-five poems are accompanied by childlike drawings using colored pencils and crayon on manila paper. Their scribbled nature instantly connotes a time when making friends is brand new and both difficult and thrilling by turns. Loose-limbed and energetic, Florian's friends of all ethnicities hug, stretch, and reach their arms out in hopes of reciprocity. Sometimes friends share everything: "We stick, we two, like glue, like glue. / We stick like thick molasses. / So close we are, we stick like tar / (and share one pair of glasses)." But other times, friendships fall apart: "We used to be friends. / We drifted away. / Will we get back together? / Well, maybe someday." Florian explores themes of jealousy, trust, and separation. Friends don't even always have to be human—sometimes they are imaginary, sometimes they are found in nature, and sometimes (as in a quick-witted reveal) they could even be a computer. Especially appropriate for a book on friendship, three poems are made for two voices to encourage reading together. Children are growing and figuring out who they are in relation to those around them; the direct, purposeful style of poetry lends itself nicely to navigating the many emotions of friendship. (Picture book/poetry. 5-9)
— Kirkus

What is a friend? Florian's latest poetry picture book brings children together to giggle, frown, and yell out words about friendship. The first poem, "What Friends Are For," is the perfect way to start talking about friendship with youngsters. Readers will laugh, sympathize, and relate to the verse that runs an emotional gamut from loss to new beginnings. The mixed-media illustrations are cheerful and bring each entry together with images of hearts and children smiling, hugging, and working together. Florian's use of bright colors in the background is delightful. Orange, blue, and yellow splash across the pages. Just like friendship, some of the poems are funny like "Give and Take," in which friends give each other things, including a cold. In "You're Not My Best Friend," readers will giggle at the prospect of being friend number 993. Young ones will enjoy this wonderful collection of poems about close friends or even a friend who—in the illustrations—drifts away. Opportunities for group readings abound with some poems incorporating more than one voice. ­VERDICT An amazing collection to read aloud and share with a group—add this new favorite to poetry shelves.–Paige Bentley-Flannery, ­Deschutes Public Library, Bend, OR
— School Library Journal

Florian, whose previous poetry collections have celebrated such varied topics as dinosaurs (Dinothesaurus, 2009), trees (Poetrees, 2010), and pirates (Shiver Me Timbers!, 2012), here turns his attention to relationships. Many of the 23 rhymes pay tribute to friendships ("I Like You," "The Fabulous Five," and "Friendship Is a Flower"), but a fair number also observe relationship difficulties ("You Lied to Me," "Billy the Bully," and "Moved"). Several are designed for two voices ("Old Friends," "I'm Better," and "Opposites"), and almost all evince Florian's characteristic upbeat, humorous style. The artwork (colored pencil and crayon on manila paper) has a childlike feel, particularly in the backgrounds where crayon
strokes are clearly visible. Florian also makes clever use of exaggeration to illustrate his points: for example, "Old Friends" who each know what the other thinks, are portrayed with beehive hairdos that connect. This will be welcomed by Florian's numerous fans and should also be useful for classroom character education discussions. — Kay Weisman
— Booklist

The first thing a reader will notice about this poetry collection is the brightly colored drawings that fill every inch of every page. The child-like illustrations appear as if they are drawn with crayon and complement the 25 poems that explore all aspects of friendship. Elementary children are just beginning to learn how to relate to other people and to understand that sometimes friendships work and sometimes they don't. The poems in this book explore these themes in a way that is easy for even young readers to understand. The topics include new friendships, those that are ending, bullies, and even imaginary friends. There are also two poems that are designed to be read aloud with a friend. The poetry in this collection will attract general readers and could be used in a guidance lesson on friendship as well. The verse topics would make good discussion starters to get children to explore and discuss their own friend making skills. Sandra Wiseman, NBCT School Library Media Specialist, Woodsdale Elementary School, Wheeling, West Virginia

Recommended
— School Library Connection

This collection of twenty-five poems teases out many of friendship's fundamentals, as well as its more nuanced complexities. Along with jealousy, bullies, and new and imaginary friends, the punchy rhymes tackle topics such as betrayal, a friend moving away, and two friends growing apart. "We used to be friends. / We drifted away. / Will we get back together? / Well, maybe someday." The coloredpencil and crayon illustrations on manila paper help keep the mood bright, but also appropriately imperfect and rough. While the poetry vacillates from serious to silly, the tone remains comforting and affirming throughout. A couple of the poems are written explicitly for two voices to read together, but many are well suited for self-reflection. Those exploring the verses will likely recognize aspects of their own friendship dynamics and may find needed humor and also some solace in their discoveries.
— Horn Book Magazine
Beach Lane Books, 9781442487956, 48pp.
Publication Date: July 10, 2018
About the Author
Douglas Florian is the creator of many acclaimed picture books including How to Draw a Dragon, UnBEElievables, Poetrees, and Dinothesaurus. He lives with his family in New York.

Douglas Florian is the creator of many acclaimed picture books including How to Draw a Dragon, UnBEElievables, Poetrees, and Dinothesaurus. He lives with his family in New York.
or
Not Currently Available for Direct Purchase