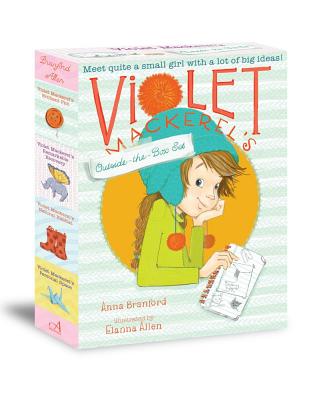 Violet Mackerel's Outside-the-Box Set
Violet Mackerel's Brilliant Plot, Violet Mackerel's Remarkable Recovery, Violet Mackerel's Natural Habitat, Violet Mackerel's Personal Space
Paperback

* Individual store prices may vary.
Description
Violet Mackerel has outside-the-box ideas—and they're all included in this in-the-box collection of illustrated chapter books.

Violet Mackerel is quite a small girl with quite brilliant ideas. Violet's ideas come in handy when helping out at the market, digging for dinosaur bones, knitting unusual leg warmers, braving tonsillectomies, feeding ladybugs, planning weddings, and inventing useful theories.

Learn her Theory of Finding Small Things in Violet Mackerel's Brilliant Plot, her Theory of Giving Small Things in Violet Mackerel's Remarkable Recovery, her Theory of Helping Small Things in Violet Mackerel's Natural Habitat, and her Theory of Leaving Small Things Behind in Violet Mackerel's Personal Space.

And there's one more theory you're likely to discover: the Theory of Reading Small Books. Because once you read one of these charming chapter books, you'll want to read them all!
Praise For Violet Mackerel's Outside-the-Box Set: Violet Mackerel's Brilliant Plot, Violet Mackerel's Remarkable Recovery, Violet Mackerel's Natural Habitat, Violet Mackerel's Personal Space…
"Violet is a true original: a complicated heroine for new readers who is neither stereotypically spunky nor silly. She needs her mother's gentle guidance but is able to solve little problems all by herself. Will there be a sequel? Let's hope so."
— Horn Book Magazine, September/October 2012

"Violet has a marvelous world view…. Debut author Branford and illustrator Allen offer up a charming new chapter book star, who is sure to appeal to fans of Sara Pennypacker's Clementine or Paula Danzinger's Amber Brown."

— Booklist Online

"7-year-old Violet desperately wants a beautiful china bird from the flea market. But to raise the ten bucks to buy it, she'll need to master a new skill: outside-the-box thinking. The results are as warm as Violet is funny, and the tale ends on the sweetest of notes."
— FamilyFun Magazine

"This is a sweet story about a likable little girl who just longs for something small...there is definitely an audience for a quiet but creative heroine. Black-and-white drawings, some full page, add touches of whimsy and humor. A charming easy reader that also serves as a thoughtful, gentle read-aloud."
— School Library Journal, December 2012
Atheneum Books for Young Readers, 9781442488595, 464pp.
Publication Date: September 3, 2013
About the Author
Anna Branford was born on the Isle of Man and spent parts of her childhood in Africa and in Papua New Guinea. Now she lives in Melbourne, Australia, with a large black cat called Florence. She writes, drinks cups of tea in her garden, and makes dolls and other small things, which she sells at early morning markets.
Anna is the author of the Violet Mackerel series. Visit her at
AnnaBranford.com
.
Elanna Allen lives in New York with her husband and sons, where she writes and illustrates children's books and designs characters for television. She wrote and illustrated
Itsy Mitsy Runs Away
and has created characters for Disney, Nickelodeon, and PBS. Stop by and say hi at
ElannaAllen.com
.