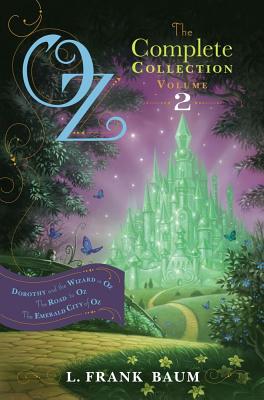 Oz, the Complete Collection, Volume 2
Dorothy and the Wizard in Oz; The Road to Oz; The Emerald City of Oz
Hardcover

* Individual store prices may vary.
Other Editions of This Title:
Paperback (1/29/2013)
Paperback (1/29/2013)
Paperback (3/5/2013)
Paperback (3/5/2013)
Hardcover (1/29/2013)
Hardcover (3/5/2013)
Paperback (3/5/2013)
Hardcover (3/5/2013)
Hardcover (3/5/2013)
Description
Delve deeper into the world of Oz in this collection of books four through six in L. Frank Baum's classic American fairy tale series.

The fourth, fifth, and sixth titles of the iconic Oz series, now in one collection!

In Dorothy and the Wizard in Oz, Dorothy and the Wizard visit the center of the Earth, where people are vegetables, glass houses grow, and Oz characters reappear. Eventually they return to the Emerald City—but will they stay?

In The Road to Oz, Dorothy sets out on another adventure with some new friends like the Shaggy Man, Button-Bright, and Polychrome, and some old ones like the Scarecrow and the Tin Woodman. Will they reach the Emerald City in time for Ozma's birthday?

In The Emerald City of Oz, Dorothy, her Uncle Henry, and Aunt Em are going to live in the Emerald City. They set out of explore the land of Oz with the help of Dorothy's friends, but must rush home again when they discover that the Nome King is busy gathering an army for an invasion of Oz. Will they be able to stop the invasion?
Aladdin, 9781442488908, 656pp.
Publication Date: January 29, 2013
About the Author
Lyman Frank Baum was born in Chittenango, New York, on May 15, 1856. Over the course of his life, Baum raised fancy poultry, sold fireworks, managed an opera house, opened a department store, and an edited a newspaper before finally turning to writing. In 1900, he published his best known book The Wonderful Wizard of Oz. Eventually he wrote fifty-five novels, including thirteen Oz books, plus four "lost" novels, eighty-three short stories, more than two hundred poems, an unknown number of scripts, and many miscellaneous writings. Baum died on May 6, 1919. He is buried in the Forest Lawn Memorial Park Cemetery, in Glendale, California.