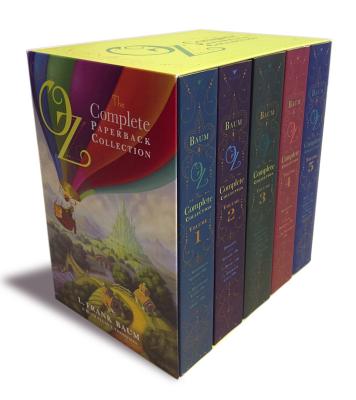 Oz, the Complete Paperback Collection (Paperback)
Oz, the Complete Collection, Volume 1; Oz, the Complete Collection, Volume 2; Oz, the Complete Collection, Volume 3; Oz, the Complete Collection, Volume 4; Oz, the Complete Collection, Volume 5
Aladdin, 9781442489028, 3200pp.
Publication Date: March 5, 2013
* Individual store prices may vary.
Description
The definitive Oz experience: Immerse yourself in the wonder of Oz in this keepsake collection of fifteen titles from L. Frank Baum's cherished American fairy tale series.

This lavishly packaged boxed set includes fifteen classic and beloved Oz tales in five paperback volumes:

Volume 1: The Wonderful Wizard of Oz, The Marvelous Land of Oz, Ozma of Oz
Volume 2: Dorothy and the Wizard in Oz, The Road to Oz, The Emerald City of Oz
Volume 3: The Patchwork Girl of Oz, Tik-Tok of Oz, The Scarecrow of Oz
Volume 4: Rinkitink in Oz, The Lost Princess of Oz, The Tin Woodman of Oz,
Volume 5: The Magic of Oz, Glinda of Oz, The Royal Book of Oz
About the Author
Lyman Frank Baum was born in Chittenango, New York, on May 15, 1856. Over the course of his life, Baum raised fancy poultry, sold fireworks, managed an opera house, opened a department store, and an edited a newspaper before finally turning to writing. In 1900, he published his best known book The Wonderful Wizard of Oz. Eventually he wrote fifty-five novels, including thirteen Oz books, plus four "lost" novels, eighty-three short stories, more than two hundred poems, an unknown number of scripts, and many miscellaneous writings. Baum died on May 6, 1919. He is buried in the Forest Lawn Memorial Park Cemetery, in Glendale, California.