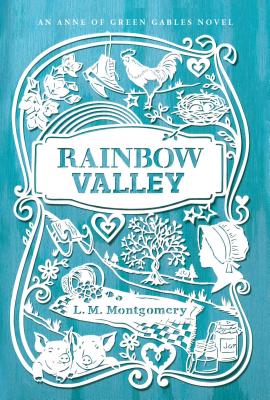 Rainbow Valley (An Anne of Green Gables Novel) (Paperback)
Aladdin, 9781442490178, 368pp.
Publication Date: January 13, 2015
Other Editions of This Title:
Digital Audiobook (2/16/2011)
Paperback (8/14/2017)
Paperback (5/5/2015)
Paperback (10/17/2019)
Paperback (5/12/2019)
Paperback (5/19/2018)
Paperback (11/17/2014)
Paperback (9/27/2018)
Paperback (4/13/2017)
Paperback (9/11/2017)
Paperback (6/29/2017)
Paperback (10/7/2018)
Paperback (7/16/2019)
Paperback (4/12/2019)
Paperback (8/23/2014)
Paperback (3/5/2018)
Paperback (11/12/2019)
Paperback (3/3/2019)
* Individual store prices may vary.
Description
Anne's family grows ever larger—and ever more joyful—in this artfully packaged edition of the fifth book in the Anne of Green Gables series.

It's been fifteen years since Anne Shirley married Gilbert Blythe, and they are still blissfully happy, delighting in their six children: Jem, Walter, Nan, Di, Shirley, and Rilla.

After a holiday in Europe, Anne returns to find that a new minister has arrived in Glen St. Mary. John Meredith is a widower with four young children: Jerry, Faith, Una, and Carl. The children have not been properly brought up since the death of their mother, with only their absent-minded father and their old and partially deaf Aunt Martha to take care of them. Anne instantly takes them under her wing, and they become best friends with her children.

The group goes on many adventures together, but always has the best time in their favorite spot: Rainbow Valley.

This addition to the renowned Anne of Green Gables series makes a wonderful gift and keepsake.
About the Author
Lucy Maud Montgomery (November 30, 1874–April 24, 1942) publicly known as L.M. Montgomery, was a Canadian author best known for a series of novels beginning with Anne of Green Gables, published in 1908. Anne of Green Gables was an immediate success. The central character, Anne, an orphaned girl, made Montgomery famous in her lifetime and gave her an international following. The first novel was followed by a series of sequels. Montgomery went on to publish twenty novels as well as 500 short stories and poems. Because many of the novels were set on Prince Edward Island, Canada and the Canadian province became literary landmarks. She was awarded Officer of the Order of the British Empire in 1935.