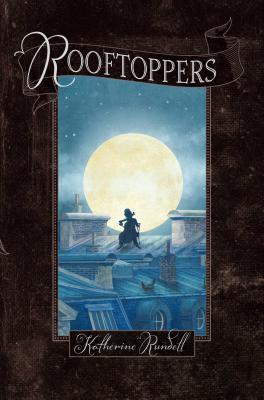 Rooftoppers (Hardcover)
Simon & Schuster Books for Young Readers, 9781442490581, 288pp.
Publication Date: September 24, 2013
Other Editions of This Title:
Digital Audiobook (9/23/2013)
Paperback (6/3/2014)
Paperback (3/7/2013)
* Individual store prices may vary.
Description
Embrace possibility in this luminous novel about a girl in search of her past who discovers a secret rooftop world in Paris.

Everyone thinks that Sophie is an orphan. True, there were no other recorded female survivors from the shipwreck that left baby Sophie floating in the English Channel in a cello case, but Sophie remembers seeing her mother wave for help. Her guardian tells her it is almost impossible that her mother is still alive—but "almost impossible" means "still possible." And you should never ignore a possible.

So when the Welfare Agency writes to her guardian, threatening to send Sophie to an orphanage, she takes matters into her own hands and flees to Paris to look for her mother, starting with the only clue she has— the address of the cello maker.

Evading the French authorities, she meets Matteo and his network of rooftoppers—urchins who live in the hidden spaces above the city. Together they scour the city in a search for Sophie's mother—but can they find her before Sophie is caught and sent back to London? Or, more importantly, before she loses hope?

Phillip Pullman, author of the His Dark Materials series, calls Rooftoppers "the work of a writer with an utterly distinctive voice and a wild imagination."
About the Author
Katherine Rundell is the author of Rooftoppers, Cartwheeling in Thunderstorms (a Boston Globe–Horn Book Award winner), The Wolf Wilder, The Explorer, and The Good Thieves. She grew up in Zimbabwe, Brussels, and London, and is currently a Fellow of All Souls College, Oxford. She begins each day with a cartwheel and believes that reading is almost exactly the same as cartwheeling: it turns the world upside down and leaves you breathless. In her spare time, she enjoys walking on tightropes and trespassing on the rooftops of Oxford colleges.

Terry Fan received his formal art training at Ontario College of Art and Design in Toronto, Canada. His work is a blend of traditional and contemporary techniques, using ink or graphite mixed with digital. He spends his days (and nights) creating magical paintings, portraits, and prints. The Night Gardener is his first book. Born in Illinois, he now lives in Toronto. Visit him online at Krop.com/TerryFFan and Society6.com/igo2cairo and on Facebook (Terry Fan Illustration).
Praise For Rooftoppers…
"Katherine Rundell's Rooftoppers, like her previous novel Cartwheeling in Thunderstorms, is the work of a writer with an utterly distinctive voice and a wild imagination. I admire her novels very much, and I hope they find the success they deserve. I'm certainly looking forward to her next."
— Philip Pullman, author of the His Dark Materials series

"Katherine Rundell's Rooftoppers is a confection of lyrical prose. Bold imaginative leaps carry the reader from one Parisian rooftop to the next in this unique and beautifully written tale of a girl in search of the mother whom everyone else believes is dead."
— Maryrose Wood, author of The Incorrigible Children of Ashton Place series

"Rooftoppers drew me in immediately and carried me along straight to the end with its original voice and lively story."
— Sharon Creech, Newbery-award winning author of Walk Two Moons

"Here comes a classic... Fantastic joyous storytelling. I was entranced. This is the only book I have ever read that made me long to cook sausages on a roof. From the first page onwards I knew I was reading something that sparkled (and it just got brighter and brighter). I'm a bit jealous actually; I wish I'd written it. Gorgeous, witty, kind, amazing, vertigo inducing, breathtaking, utterly charming. I loved, loved, loved this little gem of a book. Hold your breath- this book is magic."
— Hilary McKay, Whitbread Children's Book award-winning author of Saffy's Angel

* "Brava! This witty, inventively poetic, fairy-tale–like adventure shimmers with love, magic and music."
— Kirkus Reviews, starred review

* "The beauty of sky, music, and the belief in "extraordinary things" triumph in this whimsical and magical tale."
— Publishers Weekly, starred review

* "A glorious adventure…the story is magic."
— Booklist, starred review

"Some stories unfurl with such elegant wit that you feel the author must have been smiling constantly while typing away. Such is the case with Katherine Rundell's Rooftoppers, a sparkling and lovely novel."
— Wall Street Journal

"Hand this to kids who like their historical fiction with a creative edge."
— BCCB

"Rundell's gentle poetic style gives Sophie's story a full-heartedness that makes it take flight at times and sweeps readers along with it...Realistic fiction with the feel of fantasy, this atmospheric novel will appeal to a wide range of middle-grade readers."
— School Library Journal, starred review

"Rooftoppers, Katherine Rundell's winsome contribution to the genre, is a throwback, avoiding the hard-boiled life lessons of the modern child's thriller in favor of the wishful logic of the fairy tale."
— NYTBR
or
Not Currently Available for Direct Purchase