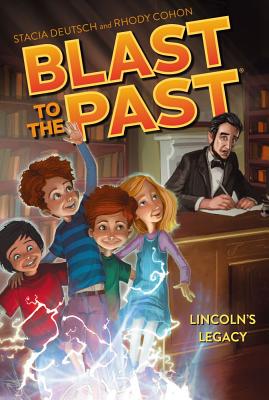 Lincoln's Legacy (Blast to the Past #1) (Paperback)
Aladdin, 9781442495340, 128pp.
Publication Date: September 10, 2013
* Individual store prices may vary.
Description
Can Abigail and her classmates jump into the past and convince President Lincoln to write the Emancipation Proclamation? Book one in an action-packed time-travel series.

"What if Abraham Lincoln never freed the slaves?" That's the question Mr. Caruthers poses to his third grade history class. And the question takes on real-life importance for Abigail, Zack, Jacob, and Bo, because Mr. Caruthers wants them to travel back in time and convince President Lincoln to write the Emancipation Proclamation. Lincoln is discouraged and thinking of quitting—before slavery is abolished!

With a time-travel gadget and only two hours to spare, Abigail and her friends are going back to the past. But even though time travel isn't hard, convincing Abraham Lincoln not to give up isn't going to be easy…
About the Author
Stacia Deutsch is the author of more than fifty children's books, including the eight-book, award-winning chapter book series Blast to the Past. She has also written the tween novel Mean Ghouls as well as books for the Nancy Drew and the Clue Crew and The Boxcar Children series. Stacia has been on the New York Times bestseller list for the novelizations of the Cloudy with a Chance of Meatballs and The Smurfs movies. For new releases and school visit information visit StaciaDeutsch.com.

Rhody Cohon does all the research and editing for the Blast to the Past series. She has a master's degree in computer engineering. Rhody lives with her family in Tuscon, Arizona.