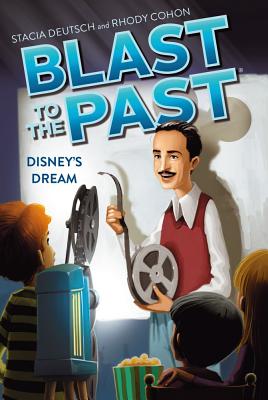 Disney's Dream (History Fixers #2) (Paperback)
Aladdin Paperbacks, 9781442495357, 107pp.
Publication Date: September 10, 2013
* Individual store prices may vary.
Description
The kids in Mr. Caruthers's class don't want a world without cartoons. Can they persuade Walt Disney to pursue his passion? Book two in an action-packed time-travel series. "What if Walt Disney quit and never made Steamboat Willie?" That's the question Mr. Caruthers poses to his third grade class on Monday morning. Abigail, Jacob, Zack, and Bo are excited to travel back in time and meet Walt Disney, and they're determined to convince Mr. Disney not give up making the first animated movie with sound. After all, what would their world be like without modern cartoons? Not to mention no Mickey Mouse, no Disneyland, and no Disney Channel But will the kids be able to help Mr. Disney follow his dream before time runs out?
About the Author
Stacia Deutsch is the author of more than fifty children's books. She loves to write adventure, mystery, and movie novesl, but time travel stories are her favorite. Just in case she gets the chance to time travel, Stacia keeps a long list of the people she would like to visit. For now, she lives in Califronia with her three children. Rhody Cohon wishes she could time travel too! Until her machine is in working order, she'll travel through her imagination to wild and woolly places from her prickly home in Tucson, Arizona.