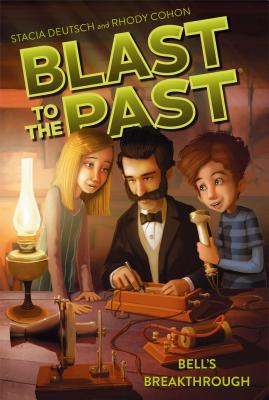 Bell's Breakthrough (Blast to the Past #3) (Paperback)
Aladdin Paperbacks, 9781442495364, 103pp.
Publication Date: December 31, 2013
* Individual store prices may vary.
Description
What if there were no telephones? That won't happen if Abigail and her classmates blast into the past and persuade Alexander Graham Bell not to give up on his invention Abigail is getting restless. It's been three weeks and she hasn't time traveled once Luckily it's Monday again, so when Mr. Caruthers asks the class, "What if Alexander Graham Bell quit and never invented the telephone?" Abigail knows it's time to go back to the past--this time, to 1876 But when the kids find Professor Bell, he has given up on the telephone. In fact, he is hard at work on a new invention Abigail and her friends have to get him back on track, but can they make a connection with the most stubborn inventor they've ever met?
About the Author
Stacia Deutsch is the author of more than fifty children's books. She loves to write adventure, mystery, and movie novesl, but time travel stories are her favorite. Just in case she gets the chance to time travel, Stacia keeps a long list of the people she would like to visit. For now, she lives in Califronia with her three children. Rhody Cohon wishes she could time travel too! Until her machine is in working order, she'll travel through her imagination to wild and woolly places from her prickly home in Tucson, Arizona.