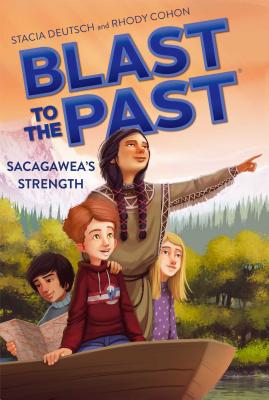 Sacagawea's Strength (Blast to the Past #5) (Paperback)
Aladdin Paperbacks, 9781442495388, 114pp.
Publication Date: June 3, 2014
* Individual store prices may vary.
Description
The Blast to the Past friends meet Sacagawea--and they've got to work fast if they're going to succeed in keeping history on course. Abigail and her friends are in the middle of a Monday afternoon group project when Mr. Caruthers tells them it's time to jump back to the past. They're going to meet Sacagawea, and this time things are more complicated than ever How can the kids convince Sacagawea not to give up on her dream when they don't even know what her dream is? Sure, they know that she helped explorers Lewis and Clark map a route leading out West ...but that's about it. Abigail, Bo, Zack, and Jacob better find out fast--because the clock is ticking.
About the Author
Stacia Deutsch is the author of more than fifty children's books. She loves to write adventure, mystery, and movie novels, but time travel stories are her favorite. Just in case she gets the chance to time travel, Stacia keeps a long list of the people she would like to visit. For now, she lives in Califronia with her three children. Rhody Cohon wishes she could time travel too! Until her machine is in working order, she'll travel through her imagination to wild and woolly places from her prickly home in Tucson, Arizona.