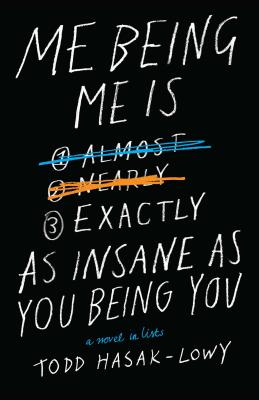 Me Being Me Is Exactly as Insane as You Being You
Paperback

* Individual store prices may vary.
Other Editions of This Title:
Hardcover (3/24/2015)
Description
A heartfelt, humorous story of a teen boy's impulsive road trip after the shock of his lifetime—told entirely in lists!

Darren hasn't had an easy year.

There was his parents' divorce, which just so happened to come at the same time his older brother Nate left for college and his longtime best friend moved away. And of course there's the whole not having a girlfriend thing.

Then one Thursday morning Darren's dad shows up at his house at 6 a.m. with a glazed chocolate doughnut and a revelation that turns Darren's world inside out. In full freakout mode, Darren, in a totally un-Darren move, ditches school to go visit Nate. Barely twenty-four hours at Nate's school makes everything much better or much worse—Darren has no idea. It might somehow be both. All he knows for sure is that in addition to trying to figure out why none of his family members are who they used to be, he's now obsessed with a strangely amazing girl who showed up out of nowhere but then totally disappeared.

Told entirely in lists, Todd Hasak-Lowy's debut YA novel perfectly captures why having anything to do with anyone, including yourself, is:

1. painful
2. unavoidable
3. ridiculously complicated
4. possibly, hopefully the right thing after all.
Praise For Me Being Me Is Exactly as Insane as You Being You…
"Hasak-Lowy maintains a sweet, acerbically funny, and often painfully honest tone."
— Publishers Weekly

"In terse, engaging prose, this novel of lists traces the teen's awkward yet heart-tuggingly true-to-life relationships with his parents, his older brother, and with the girls who are entering his life . . . great for reluctant readers due to its brief and inventive style . . . characters are authentic and appealing"
— School Library Journal

"The lists make for fast reading, and the reward is sweet for those daring enough to engage in the unconventional format. In his young adult debut, Hasak-Lowy really gets what it is to be a teen."
— VOYA

"Powerful stream of consciousness that allows readers insight into Darren's conflicting feelings not just about his parents but also Nate's fall from grace and his own frustration with his attraction to bad-girl Zoey rather than the obviously delightful Rachel."
— Booklist
Simon & Schuster Books for Young Readers, 9781442495746, 656pp.
Publication Date: April 5, 2016
About the Author
Todd Hasak-Lowy has published several books for adults. 33 Minutes was his first book for young readers and he made his YA debut with Me Being Me Is Exactly as Insane as You Being You. He lives with his wife and two daughters in Evanston, Illinois.