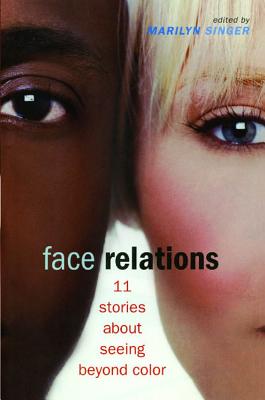 Face Relations (Paperback)
11 Stories about Seeing Beyond Color
Simon & Schuster Books for Young Readers, 9781442496163, 240pp.
Publication Date: May 5, 2013
Description
Why can't a white kid sit with the black kids in the cafeteria?
What happens when a biracial girl from Trinidad falls for a guy from a very different culture?
How does a teen deal with being the only Palestinian boy or the only Japanese girl in a small American town?
Face Relations offers eleven original works by celebrated authors Joseph Bruchac, Marina Budhos, M. E. Kerr, Kyoko Mori, Jess Mowry, Naomi Shihab Nye, Rene Saldana Jr., Marilyn Singer, Rita Williams-Garcia, Sherri Winston, and Ellen Wittlinger that explore the possibilities of embracing diversity in a world still rife with bigotry and racism. As editor Marilyn Singer writes in her introduction:
..".the characters in these stories tear down the barriers that separate us." Their stories may be troubled, funny, sad, or fierce, but all are full of hope.
11 stories about seeing beyond color > "Phat Acceptance" by Jess Mowry
> "Skins" by Joseph Bruchac
> "Snow" by Sherri Winston
> "The Heartbeat of the Soul of the World" by Rene Saldana Jr.
> "Hum" by Naomi Shihab Nye
> "Epiphany" by Ellen Wittlinger
> "Black and White" by Kyoko Mori
> "Hearing Flower" by M. E. Kerr
> "Gold" by Marina Budhos
> "Mr. Ruben" by Rita Williams-Garcia
> "Negress" by Marilyn Singer.
Advertisement