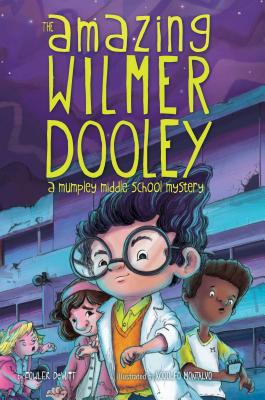 The Amazing Wilmer Dooley
A Mumpley Middle School Mystery
Hardcover

* Individual store prices may vary.
Description
Student scientist Wilmer Dooley and his friends—and enemies—are back with another hilarious mystery to solve in this zany, action-packed sequel to The Contagious Colors of Mumpley Middle School.

Wilmer Dooley can't wait to be a seventh grader. But first, he really can't wait for the 45th Annual State Science Fair and Consortium. It will be a blissful summer weekend spent hanging out with Ernie and impressing Roxie with his dazzling project on bacteria.

But Wilmer's dreams come crashing down when he arrives at the dilapidated Sac à Puces Palladium, Lodge, and Resort-Like Hotel. First, his old biology teacher, Mrs. Padgett, is a chaperone—and she absolutely despises Wilmer. Next he learns that the fair's final activity involves being stranded in the dark woods and trying not to get eaten by bears. And worst of all, his arch nemesis, Claudius, is there—and he's brought along his equally rotten cousin Vlad.

Wilmer quickly begins to suspect that the two are planning something horribly sinister. But as he grows more and more concerned, the other kids begin behaving more and more strangely...almost as if they're being brainwashed. And when Wilmer discovers the diabolical scheme that's afoot, it's even more terrible than he had imagined—and he may be too late to stop it.
Praise For The Amazing Wilmer Dooley: A Mumpley Middle School Mystery…
"Book two of the Mumpley Middle School mystery series finds aspiring scientist and soon-to-be-seventh-grader Wilmer Dooley heading to the forty-fifth Annual State Science Fair and Consortium . . . DeWitt (aka Allan Woodrow) delivers another over-the-top caper. The fast-moving plot is replete with gross-out humor, cartoon villains, and laughably inept adults that are certain to keep readers turning pages."
Atheneum Books for Young Readers, 9781442498549, 352pp.
Publication Date: August 26, 2014
About the Author
Fowler DeWitt has been called "The World's Greatest Living Author" by three of his aunts. His worldwide fame spread early when, as a child, he discovered the rare radioactive mineral now known as Fowlerite. Although his accomplishments are too many to mention in a single paragraph, DeWitt also owns the world's largest collection of mustaches. He currently lives by himself but refuses to divulge where due to his crippling phobia of hats. You can learn more about DeWitt on his Facebook page.

Biographer's note: Some claim Fowler DeWitt is the same person as children's author Allan Woodrow, since they have never been spotted in the same room together. But if they were the same person they'd always be in the same room together. As such, these claims cannot be substantiated. You can make your own conclusions by visiting Woodrow and DeWitt's shared website: AllanWoodrow.com.

Rodolfo Montalvo started drawing so early in life that he doesn't even remember when he first started doing it. No matter where he was or what he did growing up, drawing was always a part of him. Today, he feels very fortunate to be able to work as an illustrator and hopes to keep drawing and writing into old age alongside his wife, René, who is also an artist. Montalvo lives in Long Beach, California, and you can visit him online at RodolfoMontalvo.com.
or
Not Currently Available for Direct Purchase