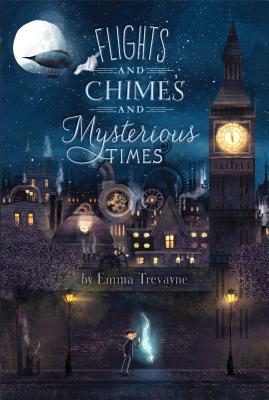 Flights and Chimes and Mysterious Times (Hardcover)
Simon & Schuster Books for Young Readers, 9781442498778, 320pp.
Publication Date: May 13, 2014
Other Editions of This Title:
Paperback (5/12/2015)
* Individual store prices may vary.
Description
In nineteenth-century England, a boy is about to discover a mysterious mechanical world he may never escape.

Ten-year-old Jack Foster has stepped through a doorway and into quite a different London.

Londinium is a smoky, dark, and dangerous place, home to mischievous metal fairies and fearsome clockwork dragons that breathe scalding steam. The people wear goggles to protect their eyes, brass grill insets in their nostrils to filter air, or mechanical limbs to replace missing ones.

Over it all rules the Lady, and the Lady has demanded a new son—a perfect flesh-and-blood child. She has chosen Jack. His only hope of escape lies with a legendary clockwork bird.

The Gearwing grants wishes—or it did, before it was broken—before it was killed. But some things don't stay dead forever.

Fans of books like Splendors and Glooms and Goblin Secrets will find Flights and Chimes and Mysterious Times irresistible!
About the Author
Emma Trevayne is a full-time writer. She is an avid music collector, a lover of computer code languages, and a photographer. She is the author of Coda, Chorus, Flights and Chimes and Mysterious Times, and Spindrift and the Orchid. She has lived in Canada, England, and America.
Praise For Flights and Chimes and Mysterious Times…
"So full of verve and imagination that the sinister steampunk world practically pops off the page. The prose sparkles, the inventions astonish, and the characters are ones you'll root for from the moment you meet them. Loved it, beginning to end."
— Stefan Bachman, author of The Peculiar

"Once action passes through to Londinium the pace picks up and the steampunk narrative starts to hum. Jack's mechanical ability is put to good use, but it is the power of loyalty and friendship that gives the story its strength and drives it to a rousing conclusion."
— The Horn Book Magazine
or
Not Currently Available for Direct Purchase