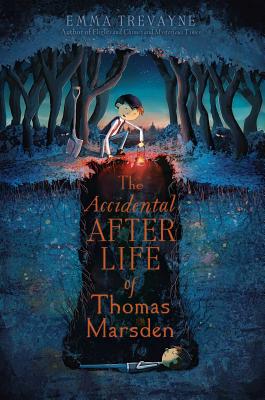 The Accidental Afterlife of Thomas Marsden (Hardcover)
Simon & Schuster Books for Young Readers, 9781442498822, 256pp.
Publication Date: July 28, 2015
Other Editions of This Title:
Paperback (7/26/2016)
Prebound (7/26/2016)
* Individual store prices may vary.
Description
What if you found your own grave—and it wasn't empty? Discover the dark delights of faeries and fortune-tellers in this gently spooky book from the author of Flights and Chimes and Mysterious Times, sure to appeal to fans of Coraline.

Grave robbing is a messy business.

A bad business. And for Thomas Marsden, on what was previously an unremarkable spring night in London, it becomes a very spooky business. For lying in an unmarked grave and half covered with dirt is a boy the spitting image of Thomas himself. This is only the first clue that something very strange is happening. Others follow, but it is a fortune-teller's frightened screams that lead Thomas into a strange world of spiritualists, death, and faery folk. Faery folk with whom Thomas's life is bizarrely linked. Faery folk who need his help.

Desperate to unearth the truth about himself and where he comes from, Thomas is about to discover magic, ritual, and the uncanny truth that sometimes the things that make a boy ordinary are what make him extraordinary.
About the Author
Emma Trevayne is a full-time writer. She is an avid music collector, a lover of computer code languages, and a photographer. She is the author of Coda, Chorus, Flights and Chimes and Mysterious Times, and Spindrift and the Orchid. She has lived in Canada, England, and America.
Praise For The Accidental Afterlife of Thomas Marsden…
"So full of verve and imagination that the sinister steampunk world practically pops off the page. The prose sparkles, the inventions astonish, and the characters are ones you'll root for from the moment you meet them. Loved it, beginning to end."
— Stefan Bachman, author of The Peculiar on Flights and Chimes and Mysterious Times

"In this steampunk fantasy...no one character is all good or all bad, and Trevayne explores their motivations and machinations thoroughly. The richly drawn world and inventive steampunk elements help this novel stand out from the pack of middle-grade fantasy."
— School Library Journal, on Flights and Chimes and Mysterious Times

"[F]ast-paced, escalating suspense...the novel's strength lies in worldbuilding and vivid descriptions, and Anglophiles will likely enjoy the historical-cultural references."

"Once action passes through to Londinium the pace picks up and the steampunk narrative starts to hum. Jack's mechanical ability is put to good use, but it is the power of loyalty and friendship that gives the story its strength and drives it to a rousing conclusion."

"Readers will find that this darkly intriguing faery story has an appealingly grounded hero."

"Full of mystery and suspense, this fantasy adventure presents a likable main character, an eye into historical London, and an opportunity to recognize that sometimes it is our very ordinariness that makes us special."

" Fairies, fakers, and family all play important roles in a story that effortlessly combines magic and reality."

"Trevayne creates a highly entertaining twist on a fairy tale. Full of hidden messages, midnight graveyard escapades, unlikely friendships, magic,and deceit, it's an engaging tale of one boy's efforts to find himself and hisway back home."
or
Not Currently Available for Direct Purchase