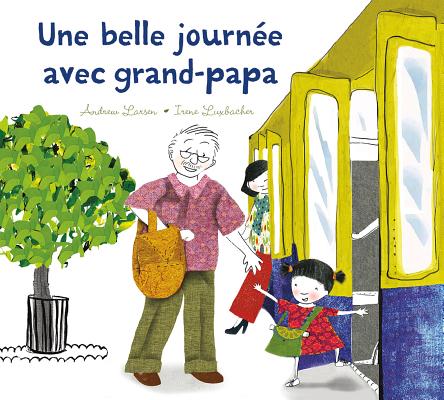 Une Belle Journ?e Avec Grand-Papa (Paperback)
Scholastic, 9781443152969, 32pp.
Publication Date: April 1, 2016
Other Editions of This Title:
Hardcover (4/5/2016)
* Individual store prices may vary.
Description
Les charmants personnages du Jardin imaginaire de grand-papa sont de retour pour explorer les endroits merveilleux aux alentours de la maison. Cette fois, Th?odora et son grand-papa empruntent les transports en commun pour traverser la ville et se rendre ? la plage o? ils passent l'apr?s-midi. Une journ?e dont ils garderont le souvenir ? jamais.
A sequel to the popular The Imaginary Garden (Le jardin imaginaire de grand-papa), starring the same charming grandfather-granddaughter duo, Poppa and Theo Together they discover all the sights that await just outside their door and explore an urban community by public transit. On their journey, they experience a bit of nature with a day at the beach and create memories that will last forever
Original title: The Not-So-Faraway Adventure
About the Author
Andrew Larsen est p?re au foyer et auteur. Quand il ?tait enfant, il passait toujours une partie de son ?t? au chalet de ses grands-parents, situ? sur une colline, pr's d'un lac. Andrew habite ? Toronto. Il a publi? sept albums jeunesse. Irene Luxbacher est auteure-illustratrice de la collection Mes premi?res ouvres. Elle a ?t? finaliste pour le prix du Gouverneur g?n?ral en tant qu'illustratrice. Elle enseigne les arts et vit ? Toronto. Andrew Larsen is a father, homemaker and author. When he was a child, he would spend a part of every summer with his grandparents at their cottage on a hill, by a lake. Andrew now lives in a downtown Toronto neighbourhood. He has published seven picture books. Irene Luxbacher is an author, a Governor General's Award nominated illustrator and artist who has had eight children's art activity books and three picture books published. She lives in Toronto.
or
Not Currently Available for Direct Purchase