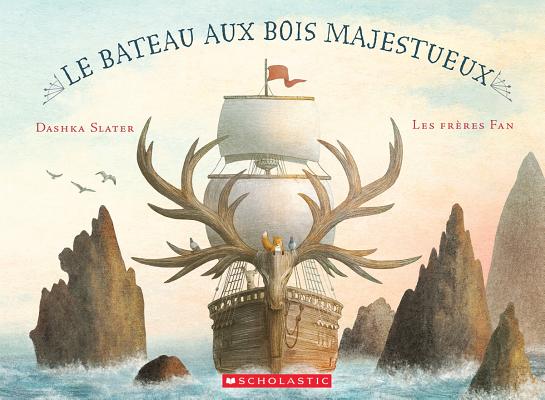 Le Bateau Aux Bois Majestueux = The Antlered Ship
Hardcover

* Individual store prices may vary.
Other Editions of This Title:
Hardcover (9/12/2017)
Description
See below for English description.
Lorsque l'opportunit de naviguer bord d'un immense bateau se pr sente Marco le renard, il la saisit sans h siter, esp rant ainsi trouver r ponse aux multiples questions qui l'habitent. Pourquoi les arbres ne parlent-ils pas? Pourquoi l'eau est-elle tellement mouill e? Jusqu'o le soleil s'enfonce-t-il lorsqu'il plonge dans la mer? Il s'embarque dans un voyage o il fera l'apprentissage de quelque chose de beaucoup plus important: l'amiti .
On reconna t dans l'ambiance feutr e de cet album la signature des Fr res Fan, qui l'on doit aussi Plus noir que la nuit et Le jardinier de la nuit. Leur ma trise du crayon graphite transforme chacune des pages de cet album couverture rigide en oeuvre d'art.
An inquisitive fox sets off on a seafaring voyage with a crew of deer and pigeons in this enchanting tale of friendship and adventure.
Marco the fox has a lot of questions, like: how deep does the sun go when it sinks into the sea? And why do birds have such lizardy feet? But none of the other foxes share his curiosity. So when a magnificent ship adorned with antlers arrives at the dock looking for a crew, Marco volunteers hoping to find foxes who are as inquisitive as he is and answers to his questions. The crew finds adventure and intrigue on their journey. And, at last, Marco finds the answer to his most important question of all: What's the best way to find a friend you can talk to?
A wonderful tale filled with adventure, friendship, curiosity and bravery.
Original title: The Antlered Ship
Scholastic, 9781443160858, 48pp.
Publication Date: November 1, 2017
or
Not Currently Available for Direct Purchase