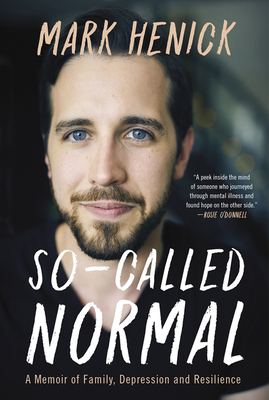 So-Called Normal
A Memoir of Family, Depression and Resilience
Paperback

* Individual store prices may vary.
Description
A vital and triumphant story of perseverance and recovery by one of Canada's foremost advocates for mental health
When Mark Henick was a teenager in Cape Breton, Nova Scotia, he was overwhelmed by depression and anxiety that led to a series of increasingly dangerous suicide attempts. One night, he climbed onto a bridge over an overpass and stood in the wind, clinging to a girder. Someone shouted, "Jump, you coward!" Another man, a stranger in a brown coat, talked to him quietly, calmly and with deep empathy. Just as Henick's feet touched open air, the man in the brown coat encircled his chest and pulled him to safety. This near-death experience changed Henick's life forever.
So-Called Normal is Henick's memoir about growing up in a broken home and the events that led to that fateful night on the bridge. It is a vivid and personal account of the mental health challenges he experienced in childhood and his subsequent journey toward healing and recovery. 
Praise For So-Called Normal: A Memoir of Family, Depression and Resilience…
"Mark Henick is a powerful storyteller. His vivid account of his early years as a depressed, suicidal teenager is a page-turner. So-Called Normal is beautifully written, heart-wrenching, and hopeful. Necessary reading for anyone who wants a peek inside the mind of someone who journeyed through mental illness and found hope on the other side."


— —Rosie O'Donnell

"A candid, graceful, and courageous account that will offer a lifeline to others."
— Kirkus Reviews

"In this miraculous story Mark Henick shares a deeply personal tale of growing up in an exceedingly difficult family, his near-suicide and, finally, his journey to an emotionally healthy adult. Compelling, beautifully written and inspiring, Henick's memoir will help you find the light at the end of your own tunnel."
— —James Martin, SJ, author of Learning to Pray: A Guide for Everyone

"From the riveting first line, you'll be taken on an unflinching personal journey with Mark Henick as he saves himself. Learn the backstory to his viral TED talk and be inspired by the heroic act of kindness that made it all possible." 
— —Frank Warren, author of PostSecret: Extraordinary Confessions from Ordinary Lives

"Mark Henick gives us the gift of hope by exposing the depth of his pain. In doing so he gives us an understanding of what pain feels like, and when he shares how he found joy in his life, we are left with the unmistakable feeling that if he can do it, we can do it." 
— —Michael Landsberg, founder of Sick Not Weak, and former host of Off The Record on TSN

"So-Called Normal is a mesmerizing, heart-stopping must-read. I could not put it down! His story is the real thing; I know because I've been there. Even if you have no one in your life who has a mental illness, you must read Mark's book; you'll know much more about mental illness than when you began, and that's important. This book is important!" 
— —Jessie Close, author of Resilience: Two Sisters and a Story of Mental Illness

"I met Mark Henick two decades ago when he was facing the struggle of living with a mental illness. The story of how Mark took on that challenge, and eventually prevailed, is important and inspirational reading for anyone who is living with a mental illness or [has] been a family caregiver. I strongly recommend it." 
— —Senator Michael Kirby (Retd.), founding chair of the Mental Health Commission of Canada

"So-Called Normal is a riveting account of family history, severe depression and the will to find recovery and live with resilience. It's both a moving and powerful story filled with hope. It's a must-read!"
— – Kevin Hines, filmmaker and author of Cracked Not Broken: Surviving and Thriving After a Suicide Attempt

"Powerful and real, Henick's story is a stark reminder that we are surrounded by people who struggle each and every day but who 'keep on keeping on.' So-Called Normal is a reality check for all, that we still have a long way to go and that advocacy is simply not enough."
— —Lt. Col. Stéphane Grenier (Retd.), author of After the War: Surviving PTSD and Changing Mental Health Culture

"So-Called Normal is essential reading for anyone dealing with mental health issues. You will come away with a better understanding of what to look for in yourself, your family and friends and what's at stake. Even when there's despair there can also be help and, ultimately, hope."
— —Darrell Bricker, author of Next: Where to Live, What to Buy, and Who Will Lead Canada's Future

"This book is a must-read for anyone struggling with, caring for, or trying to better understand mental illness." 
— —Sgt. Kevin R. Briggs (Retd.), California Highway Patrol, author of Guardian of the Golden Gate: Protecting the Line Between Hope and Despair  

"This is an important and indispensable book about overcoming and triumph, taking us through Henick's wealth of emotions, and each chapter—a precious jewel in the crown of understanding." 
— —Bif Naked, author of I, Bificus: A Memoir  

"This book is a testament to embracing the power within us all and guides the reader as a compass to stay steadfastly committed to their own personal journey however rocky and jagged that path may be." 
— —Dr. Patrick Smith, president and CEO, Centre of Excellence on Post-Traumatic Stress Disorder and Related Mental Health Conditions ce

"Mark Henick helped save my life one night. This book might save yours."
— —Warren Kinsella, author of Web of Hate: Inside Canada's Far Right Network
HarperCollins Publishers, 9781443455039, 304pp.
Publication Date: January 12, 2021
About the Author
MARK HENICK's TEDx talk about the stranger who saved his life has been viewed millions of times, and is among the most watched TEDx talks ever. Mark has appeared in hundreds of television, radio, print and online features about mental health. As host of both his So-Called Normal podcast, and the Living Well podcast for Morneau Shepell, he has interviewed well over a hundred experts, celebrities, and public figures about mental health. Mark previously served as the youngest ever board director for the Mental Health Commission of Canada, and the youngest president of a provincial Canadian Mental Health Association division in history. Mark's various roles at CMHA have included frontline clinician, program manager, and most recently as National Director of Strategic Initiatives. Presently, Mark owns a boutique mental health media consulting firm, and he is a high-demand international keynote speaker on mental health recovery.