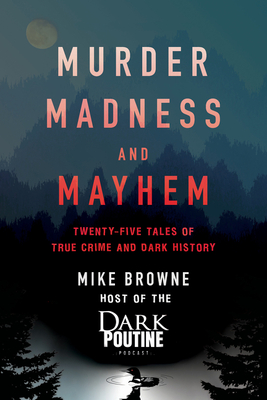 Murder, Madness and Mayhem
Twenty-Five Tales of True Crime and Dark History
Paperback

* Individual store prices may vary.
Other Editions of This Title:
Digital Audiobook (11/1/2021)
Description
Mike Browne, host of the popular Canadian podcast Dark Poutine, chronicles some of his all-time favourite stories of true crime and dark history from Canada and around the world.
Divided into four sections —Murders with a Twist, Perpetual Puzzles, The Madness of Crowds and Notable Disasters — all the stories in this collection (except two) are brand new and haven't been covered by the podcast.
In Murders with a Twist, Browne recounts seven true crime stories with atypical elements, including weird motives, unusual perpetrators and bizarre murder weapons. In one case, we meet a man who is willing to kill to possess a human voice. In another, two women play a deadly game to prove their love to each other.
Perpetual Puzzles covers six stories that remain unresolved and will leave you with more questions than answers. They include the archaeological find of the century, which turns out to be something far more sinister, as well as the discovery of a dead man on the beach with a mysterious clue in his pocket.
The Madness of Crowds reveals that murder and mayhem are sometimes a group effort. We meet two young Canadians who leave home one summer to find work and instead end up on a murder spree, and a bizarre California cult that asks its members to topple the Mormon church.
The book concludes with Notable Disasters, which describes some of the most tragic and deadly events in history, including the deadly tsunami in the Indian Ocean on December 26, 2004, as well as the devastating Grenfell Tower fire in London in June 2017.
The book includes a foreword by Alan R. Warren, bestselling true crime author and host of the House of Mystery Radio Show.
Collins, 9781443461597, 336pp.
Publication Date: November 2, 2021
About the Author
MIKE BROWNE's curiosity, love of storytelling, and lifelong interest in the true-crime genre led him to create the popular, award-winning Dark Poutine podcast in 2017. New episodes released weekly cover true crime and dark Canadian history, with a smattering of stories from around the world. Mike's experience as a trauma survivor is evident in the compassion and thoughtful connection he brings to the stories he writes and voices. Mike is also a regular co-host on the radio show The House of Mystery, which plays nightly on KCAA in Los Angeles. You can visit him online at mikebrowne.com.
or
Not Currently Available for Direct Purchase