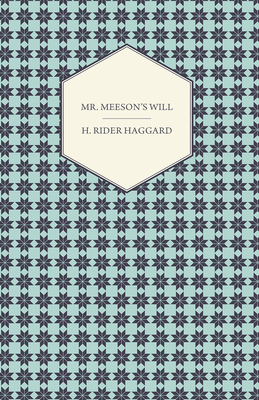 Mr. Meeson's Will
Paperback

* Individual store prices may vary.
Other Editions of This Title:
Paperback (5/18/2014)
Paperback (5/9/2016)
Paperback (6/8/2015)
Paperback (5/20/2018)
Hardcover (10/27/2022)
Paperback (7/20/2013)
Paperback (10/27/2022)
Paperback (1/11/2018)
Hardcover (7/28/2020)
Paperback (11/5/2011)
Paperback (7/1/2018)
Paperback (5/20/2019)
Paperback (7/19/2020)
Paperback (12/7/2015)
Paperback (7/17/2020)
Paperback (7/8/2019)
Paperback (1/28/2021)
Paperback (11/13/2018)
Paperback (6/24/2020)
Description
This book contains H. Rider Haggard's 1888 novel, "Mr Meeson's Will". It is based on a famous anecdote of the time and tells the story of Mr. Meeson, the wealthy proprietor of a publishing house, and a young writer named Augusta Smithers. Smithers boards a steamer bound for New Zealand in an attempt to make a new start - only to find that her nemesis is on the same ship. After a collision with another boat, Augusta, Meeson and numerous other survivors wash up on a deserted island in the Indian Ocean. Before dying, Meeson tattoos his will on Augusta's back, which inevitably leads to an interesting court battle in the latter part of the book. Sir Henry Rider Haggard (1856 - 1925) was an English writer famous for his adventure novels set in exotic countries, and as a pioneer of the 'Lost World' literary genre. Many vintage texts such as this are increasingly scarce and expensive, and it is with this in mind that we are republishing this book now, in an affordable, high-quality, modern edition. It comes complete with a specially commissioned biography of the author.
Brunauer Press, 9781443702867, 300pp.
Publication Date: August 14, 2008