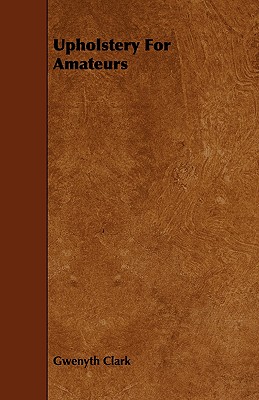 Upholstery for Amateurs (Paperback)
Aslan Press, 9781443704618, 64pp.
Publication Date: August 25, 2008
* Individual store prices may vary.
Description
UPHOLSTERY FOR AMATEURS - BY GWENYTH CLARK - PREFACE - THIS handbook describes in simple language a way to do all those upholstery jobs that are likely to be attempted by the amateur. It is written chiefly for those who are proud of their homes and who wish to devote leisure moments to improving the condition of their furniture. Study of the book makes it clear that upholstery work is not so difficult as is generally thought. If these explanations are carefully followed, there is no reason why readers should not derive much pleasure from this craft, save many pounds on repairs, and gain in comfort from their well-cared-for furniture. The instructions for different processes and types of repairs should prove suitable as they stand in most cases, but here and there the reader may come up against variations in method of manufacture used by different upholstery manufacturers and in different types of furniture. The home worker, however, should find that it is possible to adapt the methods given here to suit any particular purpose. Much will be gained from a careful preliminary reading right through the whole book, before con- centration is given to any particular chapter. For one thing, in a short book cross-reference is necessary to save space nothing is lost by this, as many basic processes are common to all upholstery operations. Moreover, a clear view of the different aspects of the craft will help you to decide on the best method of dealing with your own immediate problem and will also give you a knowledge and understanding of the craft that will assist you in many ways when you settle down to following out in practice the instruc- tions for a specific piece of work in any one chapter. Again, no one book could cover all possible individual jobs on all possible types of furniture but if you have read this book through carefully you will realize how to set about turning from one section to another to find alternative methods if.........