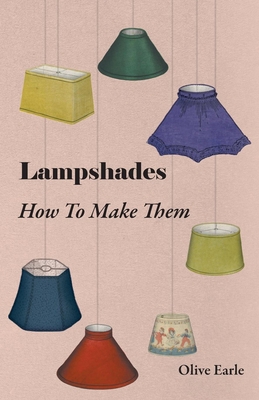 Lampshades - How to Make Them (Hardcover)
Fournier Press, 9781443724272, 136pp.
Publication Date: November 4, 2008
Other Editions of This Title:
Paperback (3/15/2007)
Paperback (5/16/2009)
Hardcover (5/20/2009)
Paperback (2/19/2015)
* Individual store prices may vary.
Description
LAMPSHADES HOW TO MAKE THEM by OLIVE EAKLE WITH ILLUSTRATIONS. Originally published in 1921. FOREWORD: The purpose of this book Is to make the art of shading lamps and candles a little less of a problem to the amateur craftsman and it is hoped, also, that those who have already had some experience as shade makers, will find some practical hints that will be of value to them. Miss M. L. Morey, who is well-known as a designer and maker of lampshades, has given me the solution to many of the problems that beset the beginner. Of course, the subject is so many-sided that it is quite possible that some point of vital importance to some one particular worker, may not seem to have been given enough attention. Any further details of any phase of shade making, that may be needed, will be supplied gladly upon application to either Miss Morey or myself. Also informa tion as to the where and the how to buy materials will be furnished to the craftsman who is unable to obtain supplies locally. It is suggested that the book be read as a whole, rather than the instructions be used from a single chapter, which, from its heading, ap parently contains all the needed information. To have each chapter complete in itself would have entailed endless repetition, as, for instance, many of the suggestions for paper shades are interchangeable with the hints on silk shade making therefore, the best plan is to read the whole book and note details in each chapter that will be of assistance in the con struction of the planned lamp. It Is taken for granted that the sewing terms used will be understood by the needlewoman who tries her hand at shade maMng and for tunately there are so few technical terms used in the craft that it is not necessary to spatter the pages with explanatory footnotes. It is hoped that the rough diagrams will make clear some of the confusing points. With patience, careful workmanship and good taste, as fine a lampshade as money can buy, can be produced at a fraction of the cost of those offered in the stores. OLIVE EABIJS. Jan., 1921. Contents include: I THE LAMPSHADE 1 II CANDLE SHADES Am PKAMELESS LAMPSHADES 13 HI BIKDISG AND LINING FRAHES 28 IV FABRIC SHADES 41 V DECORATED SHADES 54 VI SHADES FOB SIDE-LIGHTS AOT OVER-HEAD FE TCHES 63 VII PAPER SHADES 70 VIII TRBOJBTGS, FRINGES AKD ACCESSORIES ... 86 IX SHADES FOR CHILDREN TO MAKE 94 ILLUSTKATIOXS Mat Empire Shade, Showing Use of Shirring, Box-Pleated Trimming and Fringe . . . Frontispiece PAGE Parchment Candle Shade of Unusual Shape . . 18 Shade of Tooled Leather and Parchment .... 30 Shade of Antiqued Yelour ........ 48 French Shade of Silk, Net and Ribbon ..... 56 Overhead Light Concealed by Fringe. Oval Lamp shade Made of Lace ..... .... 66 Boudoir Lampshade and Standard Made Entirely of Paper ............. 80 Shade of Fine Filet Crochet, with Moss Trimming and Looped Fringe ......... 92.