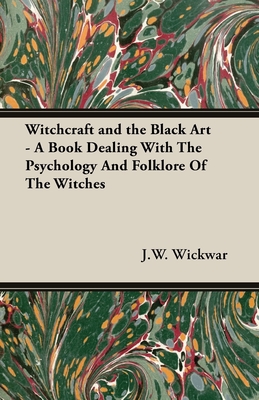 Witchcraft and the Black Art - A Book Dealing with the Psychology and Folklore of the Witches (Hardcover)
Obscure Press, 9781443738620, 328pp.
Publication Date: November 4, 2008
Other Editions of This Title:
Paperback (1/1/2006)
* Individual store prices may vary.
Description
WITCHCRAFT AND THE BLACK ART - A BOOK DEALING WITH THE PSYCHOLOGY AND FOLKLORE OF THE WITCHES By J.W. Wickwar. Originally published in London in the early 1900s, this scarce early work on Witchcraft is both expensive and hard to find in its first edition. Obscure Books Press have now republished it, using the original text and artwork. The old craft of the witches was a close order. Its members were sworn to secrecy. Although some records were kept, very few of these still exist today. In early ecclesiastic and in mediaeval literature, however, references to witchcraft are numerous. This book endeavours to set out in an interesting manner the story of the craft from earliest times. The book's three hundred and twenty pages contain fourteen Comprehensive Chapters: Witchcraft: A Primitive Cult. Initiation and Ceremony. Spells, The Evil Eye, and Possession. Practical Witchcraft. Witchcraft on the Continent. Werewolves and Vampires. Blood and Fire in England. Demons and Mascots. Witch Hunting cameos. A Typical English Witch Trial. Witchcraft in America. Witchcraft Phantasmagoria. A Typical Witch Tract. The Last Phase. This book will prove a fascinating read for anyone interested in the occult arts, and will provide much information to historians of this hitherto arcane subject. "What are these So wither'd, and so wild in their attire, That look not like the inhabitants o' the earth. And yet are on't?" Banquo.