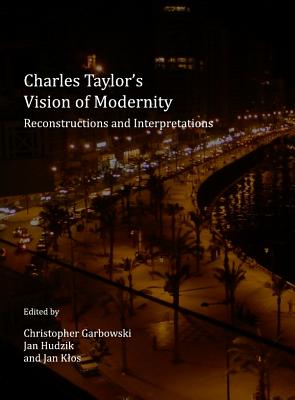 Charles Taylor's Vision of Modernity (Hardcover)
Reconstructions and Interpretations
Cambridge Scholars Publishing, 9781443811286, 242pp.
Publication Date: August 1, 2009
* Individual store prices may vary.
Description
Charles Taylor is currently one the most renowned and influential contemporary philosophers. He is also widely quoted and discussed both in the social sciences and humanities. Taylor earns this attention through his remarkable capacity for presenting his conceptions in the broadest possible intellectual and cultural context. His philosophical intuition is fundamentally antinaturalistic, and tends toward developing broad syntheses without a trace of systematizing thinking, or any anarchic postmodernist methodology. His thought unites the past with the present, while culture is treated as a broad mosaic of discourses. Religion, art, science, philosophy, politics and ethics are all fields through which the Canadian philosopher deftly moves about in his search for their hidden structures and deepest sense. Taylor's philosophical output is prodigious. Recently, as his monumental study A Secular Age (2007) indicates, he has been concentrating much of his attention on the problem of secularization.. The selection of contributions in the current volume proffer a penetrating cross section of Taylor's thought. They are derived from a conference held in October 2008 in Lublin, Poland Although some of the articles are focused on a reconstruction of the philosopher's concepts, most either engage in a polemic with elements of his thought or find inspiration in it for their own reflections. The contributions are grouped in four parts: 1) philosophy and the modern self; 2) the problem of secularization; 3) between liberalism and communitarianism; and 4) language, literature, and culture.
About the Author
Christopher Garbowski, Associate Professor at the Institute of English at Maria Curie-Sklodowska University, is especially interested in narrative art and values. His major publications include three books: Krzysztof Kieslowski's Decalogue Series (1996), Recovery and Transcendence for the Contemporary Mythmaker (2000) and Pursuits of Happiness: The American Dream, Civil Society, Religion and Popular Culture (2008). Jan P. Hudzik is Full Professor at the Department of Political Philosophy and Social Communication at Maria Curie-Sklodowska University. His research interests center on problems of modern and contemporary philosophy as well as sociological-philosophical theories of culture. He is the author and editor of a number of Polish books, among the latest are: Reason, Freedom, Responsibility: A Study in the History of Ideas in Modern and Contemporary Philosophical Thought (Lublin 2001), Lectures in Political Philosophy (Lublin 2002), Uncertainty and Philosophy (2006) and Three Studies on Metaphysics, Memory and Democracy (2009). Jan Klos is Associate Professor at the Department of Social and Political Ethics at the John Paul II Catholic University in Lublin, Poland. His major interests include the history of social and political doctrines, especially in the nineteenth century, and theories of the mass media. He has published three books in Polish, the latest of which is: Freedom - Individualism - Progress. Conservative Liberalism vs. Modernity. In 2006 he was awarded the Novak Award by the Acton Institute.
or
Not Currently Available for Direct Purchase