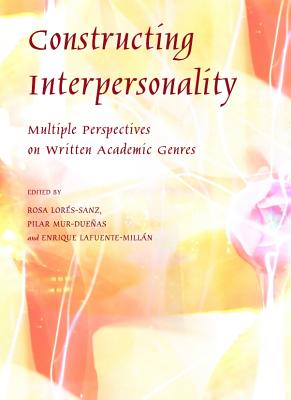 Constructing Interpersonality (Hardcover)
Multiple Perspectives on Written Academic Genres
Cambridge Scholars Publishing, 9781443819817, 367pp.
Publication Date: May 1, 2010
* Individual store prices may vary.
Description
The view that academic discourse is, by definition, impersonal has long been superseded. It seems unquestionable now that the interpersonal component of texts, that is, the ways in which the writers project themselves and their audience in the discourse, is an essential factor determining the success of scholarly communication and has become a fundamental issue in the field of English for Academic Purposes (EAP). Interpersonality is the key issue around which the articles in this edited book focus on. The eighteen contributions included in this volume provide a wide exploratory view of the many academic genres in which interpersonality is manifested and the various analytical approaches from which the textual manifestation of that interpersonality can be studied. The varied origin of the contributors is also representative of the global interest that the issue of interpersonality arouses in the field of academic discourse analysis at an international level. The present volume constitutes a highly valuable tool for applied linguists and discourse analysts with an interest in EAP as well as for students, instructors and language teachers interested in academic discourse. The book may also be of interest to other agents intervening in the research publication process, such as translators, proofreaders, reviewers and editors.
About the Author
Rosa Lores-Sanz is Senior Lecturer in the Department of English and German Studies, Universidad de Zaragoza, Spain. She has co-edited books and published several articles on pragmatics, corpus analysis and contrastive rhetoric applied to academic and specialized languages. Her articles have appeared in journals such as English for Specific Purposes, Multilingua, ESP across Cultures, etc. Her present research focuses on the exploration of written academic genres both from an intercultural and an intergeneric perspective. She is a member of the research group InterLAE (www.interlae.com). Pilar Mur-Duenas holds a PhD from the Universidad de Zaragoza, Spain, where she is Lecturer in the Department of English and German Studies. Her main research interests are written academic discourse, intercultural rhetoric, metadiscourse and corpus studies. She is a member of the research group InterLAE (www.interlae.com). The results of her research have been published in journals such as Journal of English for Academic Purposes, International Journal of Applied Linguistics, English Text Construction, etc. Enrique Lafuente-Millan has carried out most of his research on interpersonal resources in research articles published in international journals, adopting an interdisciplinary perspective. This was also the topic of his PhD thesis which he completed in 2007. He is part of the interLAE research group (www.interlae.com) at the Univerdad de Zaragoza, Spain. At the moment his research focuses on the cross-cultural exploration of evaluation and engagement in research articles.
or
Not Currently Available for Direct Purchase