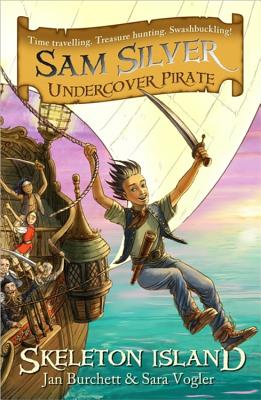 Skeleton Island (Paperback)
Orion Children's, 9781444005844, 128pp.
Publication Date: August 7, 2012
* Individual store prices may vary.
Description
How to become an Undercover Pirate...
1)Have a pirate captain as your ancient ancestor
2)Find a message in a bottle and a magic gold doubloon
3)Get whisked back in time to join a pirate crew
4)When you get home DON'T TELL ANYONE. Remember - you're undercover!
Sam Silver lives near the sea and enjoys beach-combing for pirate treasures. When he finds an ancient message in a bottle he thinks it will make a great new relic for his collection, but the bottle holds a very special secret...
Inside is a gold doubloon which whisks Sam back in time to 1706. Suddenly he's on board a pirate ship - the Sea Wolf - surrounded by her fearsome captain and crew and sailing the Caribbean Sea. If Sam can't think of a very good reason why they should keep him alive, he'll be forced to walk the plank!
About the Author
Jan and Sara were already friends when one day they decided they wanted to write children's stories and it would be more fun to write them together. That was 15 years ago. Since then they've written over 130 stories - including some about ghosts, football, ghosts playing football and naughty Gargoylz.. Jan lives in Essex with her family and Sara lives in London with hers. They both have black cats who completely rule their lives.
Visit Jan and Sara's website at www.burchettandvogler.co.uk
Praise For Skeleton Island…
An enjoyable, pacy first book in a new series ... with plenty of exciting escapades.—PRIMARY TIMES

good clean fun. Perfect for little boys and maybe even some tomboy girls. And nice and short and easy to read. How refreshing is that in the run up to Christmas?—JE TOWEY

a great read, full of swashbuckling adventure, unlikely friendships and time-travelling mayhem. Girls and boys will love the action, fast-paced plot and large-print text, letting them easily read along for themselves. Highly recommended.—BOOKAPOET

We are always being asked for information - fact or fiction - about pirates, so I know that this series will be hugely popular. With its fast-paced narrative and plenty of swashbuckling action, young readers will be quickly drawn into the stories and will look forward to more.—PARENTS IN TOUCH

Skeleton Island, and it's equally enjoyable sequel The Ghost Ship, are perfect stories for pirate-fixated kids aged 6 and above.—THE BOOK ZONE FOR BOYS
or
Not Currently Available for Direct Purchase