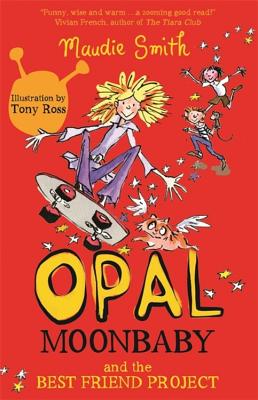 Opal Moonbaby and the Best Friend Project (book 1) (Paperback)
Orion Children's, 9781444015805, 192pp.
Publication Date: July 5, 2016
* Individual store prices may vary.
Description
Originally published as Opal Moonbaby, this is the first in a funny, warm-hearted series about friendship - and aliens! If you love Jacqueline Wilson, Cathy Cassidy or Liz Kessler, you'll love reading about Opal Moonbaby.
Martha's decided that friends are stupid. Especially if they're anything like Colette and Chloe. She never wants another friend. Ever.
But it's the first day of the summer holidays, and there's not that much to do ... until she spots a strange little furry creature who leads her to Opal Moonbaby. Opal's been sent down from her planet with a special mission: she needs to work out what on earth people are (and my goodness - people are strange) and make a friend. Can Martha help Opal make the Best Friend Project a success?
About the Author
Maudie Smith began her career as an actor. She spent years perching on scenery in the back of a van, while touring with a small-scale theatre company. In children's theatre, she played well-known characters such as Piglet and the Snow Queen. She recently graduated from Bath Spa University with an MA in Writing for Young People. Maudie lives in a village near Bath with her screenwriter husband, two daughters, two cats, two chickens and far too many stick insects. Visit her website http://www.maudiesmith.co.uk/ and follow her on Twitter @MaudieSmith
Tony Ross is one of Britain's best-known illustrators, with many picture books to his name, including the bestselling Little Princess stories (Andersen). He has also produced the line drawings for many fiction titles, for authors such as David Walliams, Jeanne Willis, Enid Blyton, Astrid Lindgren, and many more.
Praise For Opal Moonbaby and the Best Friend Project (book 1)…
This charming debut has everything: strong characterisation, dramatic narrative and a perfect ending. Furthermore, the themes of friendship, trust and tolerance present a powerful message. Children will have fun reading and talking about Opal Moonbaby. This could be the beginning of a great new series. Parents, teachers and librarians, please take note: Maudie Smith is 'zooming totally fantabulous'!—NEWBOOKS

Brilliant story, great characters. Highly recommended for 7+, especially girls. This warm and quirtky book will appeal to many girls, whilst avoiding some of the more obvious girliness that is sometimes seen on the shelves for this age group ... I loved the lightness of touch and general humour of this.—THOUGHTS FROM THE HEARTHFIRE

A touching story deliciously tinged with magic—Julia Eccleshare, LOVEREADING4KIDS

Who can resist this delightful, quirky, entertaining book which brings new words and phrases to our vocabulary, such as scoff capsules, hydrophones, swimbats and fantariums. Opal Moonbaby is one of the most charming children's books that I have read in a long time ... As soon as Opal stepped out of her spaceship I found her adorable. her zany and vibrant character would brighten anyone's life ... This book is truly a delight and will entertain all age groups.—SERENDIPITY REVIEWS

This is a great book which has ... ltos of funny, zany twists. I would recommend this book to boys and girls 7 years and up who enjoy a quirky tale with cliffhangers, problem solving and touches of magic.—GUARDIAN CHILDREN'S BOOKS

This heart-warming tale ... will appeal to those who like a little magic in their lives.—CAROUSEL

This funny, touching story of a very special friendship will delight and entertain both boys and girls aged 7+—Ni4KIDS

"I loved this book ... I really enjoy the way Opal speaks and all the things she tells Martha and Robbie about Carnelia, her home planet ... The plot was great and has us guessing all the way through, and the ending was fantastic. I recommend this funny, great book to boys and girls who love having fun and are 7 or older." Review by 7 year old Isabella—CHICKLISH

A great read—ABC MAGAZINE

...very funny ... with some really poignant moments.—PRIMARY TIMES

"You can't put down this brilliant, magical and hilarious book - I had to read it again. [Opal Moonbaby is a] very well written story about aliens, friendships and challenges. Opal, Martha and Robbie are very good characters because of their great sense of humour when things aren't always that easy. I have read this book a lot of times and it never gets boring."—Joe Duval Smith (age 10)

"Now - I want you to remember the name of Opal Moonbaby - she's a brilliant comic creation ... Opal sparkles and she's totally original. I lovedher. And Maudie Smith gives us a great story too. She's pitch-perfect on the way that girls in this age group act."—Sue Magee, THE BOOKBAG

"I so wish I had a friend like Opal Moonbaby and a pet like Garnet. They would be so funny to hang out with! ... It¿s the best, best, best best!¿—Isabella (age 9)

I giggled my way through this book and really looked forward to reading time before bed as I knew I could read more of this brilliant story...There was nothing I didn't like about this book and I would highly recommend it.—Seren, Year 5, BOOK ANGEL BOOKTOPIA

a little like Pippi Longstocking meets Dodie Smith ... with a sprinkle of Jacqueline Wilson-esque social commentary thrown in for good measure. I really enjoyed this. It's got a certain, almost old-fashioned, charm to it—DID YOU EVER STOP TO THINK...

With fantasy like this, the mostr serious critical questions is whether the willing suspension of disbelief is sustained. Here the characters are believable and their actions and responses ring true. Many of the interactions are marked with genuine humour. Opal has superhuman powers and uses them to strip pretensions from those human characters who ring false. The language used in the narrative is appropriate and consistent, with one or two daring insertions that work pretty well.—BOOKS FOR KEEPS

The story of an alien who comes to earth on a mission to make friends, this is a rather lovely debut. Quirky and very charming, Opal is something of a futuristic Pippi Longstocking, which can only be a good thing—BOOKSELLER

The plot is very well paced and there are a lot of surprises in store for the reader. Opal is a fascinating character and is well balanced by the more sensible Martha ... This is a hilarious book and Smith is hugely successful in bringing Opal and her alien ways to life.—BOOKBABBLERS

Sparkling with originality and sharm, this is a heart-warming, hilarious story about friendship ... From the very first pages of this book the author grabbed my attention and she kept it right through until the last page ... There's so much to love about this book ... Reading this book I was transported back to the books I'd loved as a child.—JUNIPER'S JUNGLE

Opal Moonbaby really does seem like a classic novel. It's exactly the sort of book I would have devoured as a young girl and it really did have a similar style and tone as some of my old favourites ... Maudie Smith is a great new talent in the world of middle grade fiction and I'll certainly be looking out for more of her work in future.—WRITING FROM THE TUB

Opal Moonbaby is one of my favourite books because it is so imaginative. Opal Moonbaby is funny, creative, quirky and heart-warming.—Juliet, 10

It's amazing! I can¿t wait to read the next one.—Katya (age 11)

I really loved the book. Maudie really knows how kids' friendships work, I thought the book was really sensitive and made me laugh. I loved Opal's happy-go-lucky personality and the way she got all her human phrases wrong.—Max (age 10)

I loved it.—Charlotte, 11 years, ANORAK

I love this book. It is really funny, and exiting too.—Lucy Thomas, age 8
or
Not Currently Available for Direct Purchase