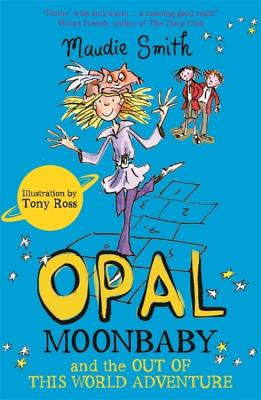 Opal Moonbaby and the Out of this World Adventure (book 2) (Paperback)
Orion Children's, 9781444015829, 304pp.
Publication Date: July 5, 2016
* Individual store prices may vary.
Description
Originally published as About Zooming Time, Opal Moonbaby! this is the second book in a funny, warm-hearted series about friendship - and aliens! If you love Jacqueline Wilson, Cathy Cassidy or Liz Kessler, you'll love reading about Opal Moonbaby.
Opal Moonbaby is spending a year on Earth. A whole year! Martha can't wait to take her to school, to introduce her to her friends and to recreate all the fun they had during the summer.
But things don't turn out quite as expected and before Martha knows it, Opal is off making new friends, doing new things and throwing herself into life on Earth - and Martha can't keep up. When Opal's Uncle Bixie warns them that the nasty Mercurials, enemies from their home planet of Carnelia, are on their way to Earth, planning mischief, Martha begins to worry. But Opal is far too busy making friends to be bothering about those stupid Mercurials. Besides, her eyes would z-ray them immediately and she'd dazzle-kick them all the way back to Carnelia. Wouldn't she?
Join Opal and Martha for an out-of-this-world-adventure!
About the Author
Maudie Smith began her career as an actor. She spent years perching on scenery in the back of a van, while touring with a small-scale theatre company. In children's theatre, she played well-known characters such as Piglet and the Snow Queen. She recently graduated from Bath Spa University with an MA in Writing for Young People. Maudie lives in a village near Bath with her screenwriter husband, two daughters, two cats, two chickens and far too many stick insects. Visit her website http://www.maudiesmith.co.uk/ and follow her on Twitter @MaudieSmith
Tony Ross is one of Britain's best-known illustrators, with many picture books to his name, including the bestselling Little Princess stories (Andersen). He has also produced the line drawings for many fiction titles, for authors such as David Walliams, Jeanne Willis, Enid Blyton, Astrid Lindgren, and many more.
Praise For Opal Moonbaby and the Out of this World Adventure (book 2)…
A magical adventure about friendship and family that's out of this world.—tBk spring issue

You'll also realise that this is a book for the girl who is comfortable with reading and can appreciate what great fun words can be. I giggled my way through the book - and at my age that is Simply Not Dignified.—THE BOOK BAG

This is a touching story that had me laughing out loud. I highly recommend this book, it is so much fun!—Bookblabblers blog

The sequel to the brilliant Opal Moonbaby and a real treat for the tween girl. Highly recommended.—The Book Bag

Opal Moonbaby is one of the most entertaining and colourful characters I have had the pleasure of spending time with... I am in awe of the powers of Maudie Smith's imagination. How she comes up with such unique and entertaining characters and settings, I have no idea...I would buy this series for any young girl, who enjoys comical tales and knows the true meaning of friendship. A blooming, zooming, fantabulous read!—Vivienne, www.serendipityreviews.co.uk

A really unusual book with two excellent heroines.—www.parentsintouch.co.uk
or
Not Currently Available for Direct Purchase