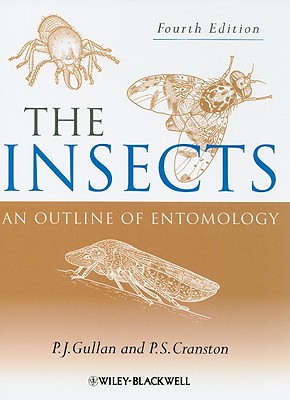 The Insects (Hardcover)
An Outline of Entomology
Wiley-Blackwell, 9781444330366, 565pp.
Publication Date: February 15, 2010
* Individual store prices may vary.
Description
This established, popular textbook provides a stimulating and comprehensive introduction to the insects, the animals that represent over half of the planet's biological diversity. In this new fourth edition, the authors introduce the key features of insect structure, function, behavior, ecology and classification, placed within the latest ideas on insect evolution. Much of the book is organised around major biological themes - living on the ground, in water, on plants, in colonies, and as predators, parasites/parasitoids and prey. A strong evolutionary theme is maintained throughout. The ever-growing economic importance of insects is emphasized in new boxes on insect pests, and in chapters on medical and veterinary entomology, and pest management. Updated 'taxoboxes' provide concise information on all aspects of each of the 27 major groupings (orders) of insects.
Key Features:
All chapters thoroughly updated with the latest results from international studies
Accompanying website with downloadable illustrations and links to video clips
All chapters to include new text boxes of topical issues and studies
Major revision of systematic and taxonomy chapter
Still beautifully illustrated with more new illustrations from the artist, Karina McInnes
A companion resources site is available at www.wiley.com/go/gullan/insects. This site includes:
Copies of the figures from the book for downloading, along with a PDF of the captions.
Colour versions of key figures from the book
A list of useful web links for each chapter, selected by the author.
About the Author
Penny Gullan and Peter Cranston are professors in the Department of Entomology, University of California, Davis, USA., where they jointly teach undergraduate courses in biodiversity, insect systematics and general entomology, and conduct research on Coccoidea and Chironomidae, respectively. They maintain strong connections to the Australian National University, Canberra, where, as Visiting Fellows, much of this fourth edition was revised.
or
Not Currently Available for Direct Purchase