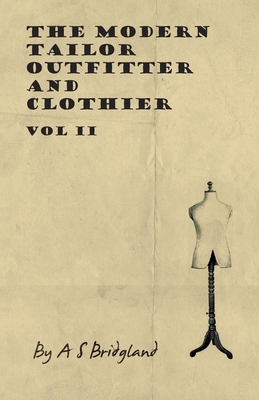 The Modern Tailor Outfitter and Clothier - Vol II (Paperback)
Obscure Press, 9781445505367, 306pp.
Publication Date: May 7, 2010
Other Editions of This Title:
Hardcover (5/7/2010)
Hardcover (5/7/2010)
Hardcover (5/7/2010)
Paperback (5/7/2010)
Paperback (5/7/2010)
* Individual store prices may vary.
Description
Originally published in 1928, 'The Modern Tailor, Outfitter and Clothier' is a classic three-volume work detailing the tailoring and clothes-making industry, including design, sales practices and production methods, in the early 20th century. Extensively illustrated with photographs and diagrams throughout, it provides the reader with a detailed snapshot of the tailoring trade and its history. Volume two contents include: Dressmaking and Tailoring; 1 The Wholesale Trade; 2 The Wholesale Trade; 3 Grading for the Wholesale Trade; 4 Grading for the Wholesale Trade; 5 Lays or Economy in Cutting; 6 Cutting Ladies' Garments (Nett) by Shoulder Measure System; 7 Ladies' Leather Garments; 8 Collar Cutting and Making for Ladies' Garments; 9 The Tailors' Shop; 10 Window-Dressing for Tailors; 11 Light as a Selling force for the Tailor; 12 Buying a Business; 13 insurance for Tailors; 14 Sales Letters; 15 Bookkeeping for Tailors.; 16 Advertising for Tailors; 17 Salesmanship for Tailors; 18 A Glossary of Technical and Textile Terms. We are republishing this vintage volume in a modern and affordable edition, complete with a new introduction and high quality reproductions of the original illustration plates.