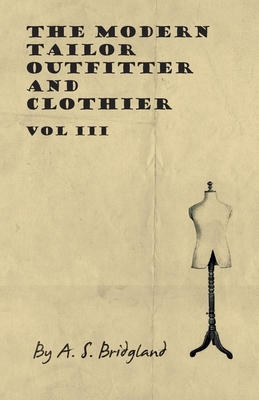 The Modern Tailor Outfitter and Clothier - Vol III (Paperback)
Obscure Press, 9781445505374, 310pp.
Publication Date: May 7, 2010
Other Editions of This Title:
Hardcover (5/7/2010)
Hardcover (5/7/2010)
Hardcover (5/7/2010)
Paperback (5/7/2010)
Paperback (5/7/2010)
* Individual store prices may vary.
Description
Originally published in 1928, 'The Modern Tailor, Outfitter and Clothier' is a classic three-volume work detailing the tailoring and clothes-making industry, including design, sales practices and production methods, in the early 20th century. Extensively illustrated with photographs and diagrams throughout, it provides the reader with a detailed snapshot of the tailoring trade and its history. Volume three contents include: Wearing of insignia - Correct Dress for the Occasion - The Art of Dress - Outfits for the Tropics - Outfitting (Continued) - Outfitting - Garment Renovating - What Tailors Should Know About Woollens - Trimmings and Their Troubles - Court Dress - Scottish Dress - Garment Cutting by Shoulder Measures - Drafts of Mess Jackets - Military Mess Dress Regulations - Military Garments - Naval Uniforms - Clerical Garments - Motor Liveries - How to Make Trousers - How to Make a Lounge Jacket - How to Make a Waistcoat. We are republishing this vintage volume in a modern and affordable edition, complete with a new introduction and high quality reproductions of the original illustration plates.